These fudgy pecan brownies are so full of cocoa, pools of rich melted chocolate and topped with the butteriest pecans. A simple one-bowl brownie recipe that everyone will love.
Jump to:
I'm into brownies. Like... a lot. Check out these super fudgy brownies, or these Nutella brownies or maybe even these triple chocolate brownies! In my professional chef career, I've made 1000's of brownies, so it's safe to say I know a good one when I find it. And this recipe is it!
All the ingredients are from Aldi, as always, because we like to keep things economical and simple around here. I have never believed that you need to spend a small fortune (or a large one) to eat well and we're proving it with each new recipe.
Why You'll Love This Recipe
You're going to love these brownies because they get made in one bowl!
They only take about 15 minutes to mix together and about 40 minutes to bake. So thick, chewy, fudgy brownies in under 1 hour!
This recipe uses a blend of cocoa powder and chopped choclate so you get a fudgy texture with pools of melted chocolate.
And those pecans are the perfect rich and buttery complement to the chocolate.
Ingredients needed
dark chocolate- It really doesn't need to be fancy or expensive chocolate here. The bar that I use only costs 0.79p.
caster- You can use all caster sugar in this recipe instead of a mix of caster and brown (or demerara) but I think the mix of both really adds to the richness of the flavour without making the brownies to heavy.
brown sugar- Feel free to use demerara here too, if you like.
plain flour
eggs- Okay. This recipe does use 5 eggs, but it makes a large tray of brownies and you don't need to whip the eggs first like with my other (most popular) recipe.
cocoa powder- Adds a rich cocoa flavour.
butter- I browned the butter for this recipe because I wanted the richness of the brownies to be a match for the deep caramel notes of the pecans. But you can absolutely just melt the butter and leave it at that!
vanilla- Not completely necessary, but just helps to balance all the notes of cocoa, chocolate, brown sugar and pecans.
vegetable oil- Helps keep these brownies really moist and fudgy.
pecans- Don't worry about toasting them. They get plenty toasty when they're baked on top of the brownie mix. You could mix some through the batter if you're so inclined, but with all those giant chunks of chocolate, I think just leaving them for the top is a great idea.
Step By Step Instructions for pecan brownies
Step 1 & 2
First off preheat the oven and line a baking tray with parchment paper. I highly recommend using baking paper even if you have a non-stick pan. I like the extra security of knowing nothing will stick!
If you are going to brown the butter, place it in a large pan and heat over medium high until the butter is melted and starts to turn golden brown. It will start to smell nutty and warm. Set aside to cool for about 10 minutes before you make the rest of the brownie batter.
Alternatively you can simply place the butter in a bowl and melt in the microwave, but still let the butter cool before carrying on with the recipe.
Brownie Top Tips
Line your baking pan even if it is non-stick. That way you can get the whole brownie slab out of the pan and not ruin your non-stick bottom by using a knife to slice the brownies.
Let the butter cool for about 10 minutes before you carry on with the recipe. It needs to be about room temperature.
Step 3 & 4
Once the butter has cooled add in the sugars and mix well.
Add in the eggs. Start by adding in two and whisking then add in the remaining eggs. This just makes handling the batter slightly easier.
Add in the vanilla and vegetable oil here too.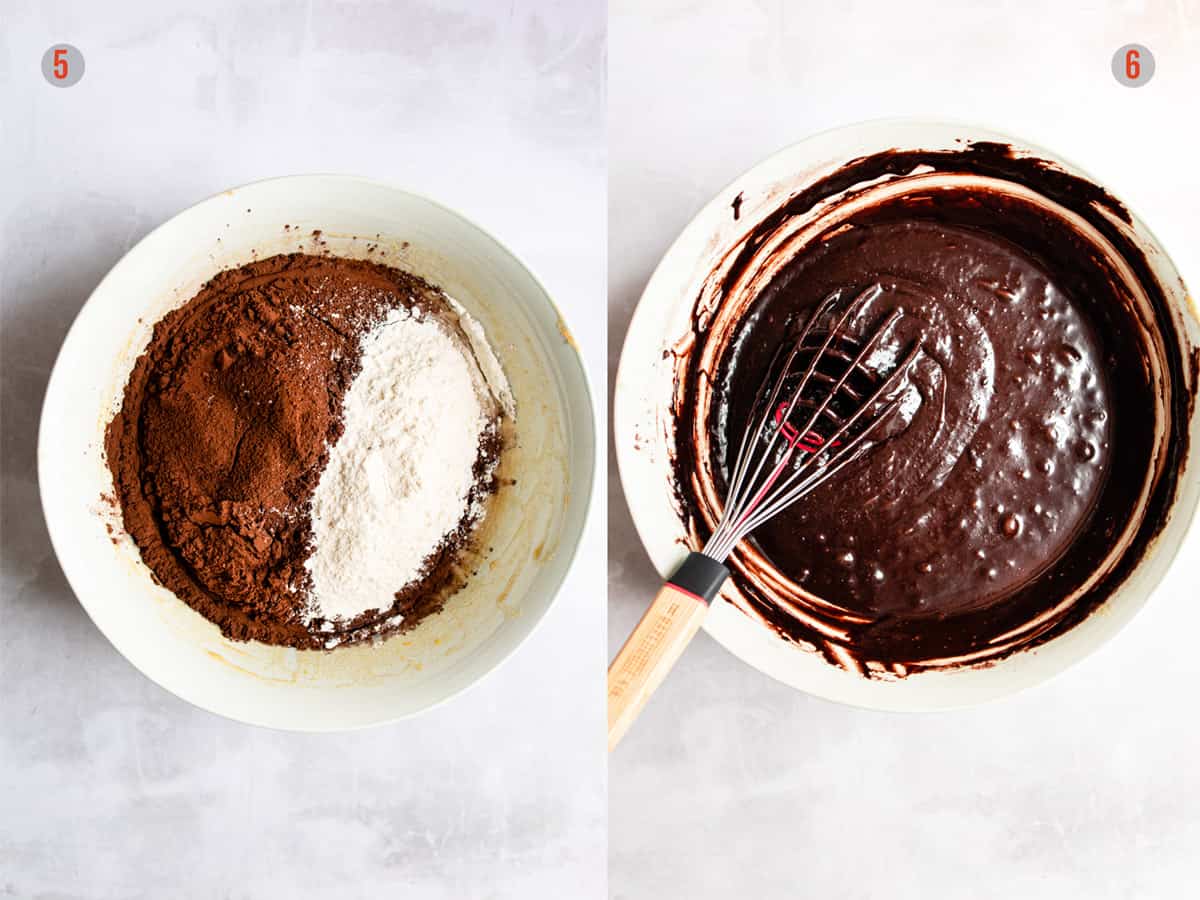 Step 5 & 6
Add the cocoa powder and the flour to the bowl. *It may be a very good idea to sieve your cocoa powder here and I often do it, but not always. If you don't have a sieve you can always place your cocoa powder in a small bowl and use the back of a spoon to crush any of the large chunks.
Whisk everything really well to make sure your have no pockets of dry ingredients. You can use a whisk, silicone spatula or a wooden spoon. It's all up to you depending on what you have.
Step 7 & 8
Add in the chopped chocolate to the batter. It will seem like a lot. That's because it is! We're using a whole bar of chocolate (200g). These pecan brownies are about indulgence!
Once the chocolate chunks are mixed into the batter pour the mix into your lined baking pan. The batter will be very thick and you'll need to use the back of a spoon to spread it evenly.
Scatter the chopped pecans over the top of the brownie batter and bake in the preheated oven for about 20-30 minutes. My brownies took exactly 24 minutes and my oven runs a little on the hot side.
FAQ's
Equipment needed
THANKS SO MUCH FOR READING AND COOKING ALONG WITH ME! IF YOU MAKE THIS RECIPE OR HAVE A QUESTION, I'D LOVE IT IF YOU LEFT A COMMENT AND A RATING. YOU CAN ALSO FOLLOW ALONG ON PINTEREST, FACEBOOK AND INSTAGRAM TO SEE WHAT WE'RE EATING, PINNING AND A LITTLE BEHIND THE SCENES TOO!
Chewy Pecan Brownies
These and chewy pecan brownies are so easy to make and will disappear in no time. A an easy dessert or the perfect foodie gift.
Print
Pin
Rate
Ingredients
240

g

(

1

cups

)

butter

,

browned and cooled

2 ½

tablespoons

(

2 ½

tablespoons

)

vegetable oil

260

g

(

1 ¼

cups

)

caster sugar

200

g

(

7

oz

)

brown sugar

5

(

5

)

eggs

,

room temperature

2

teaspoon

(

2

teaspoon

)

vanilla

1

teaspoon

(

1

teaspoon

)

salt

130

g

(

4 ⅗

oz

)

plain flour

100

g

(

1

cups

)

cocoa powder

200

g

(

1

cups

)

dark chocolate

,

chopped

75

g

(

2 ⅔

oz

)

pecans

,

chopped
Optional
25

g

(

⅞

oz

)

dark chocolate

,

melted for drizzling over the cooled brownies
Instructions
Preheat the oven to 160ºC. Line a 9 x 13 baking pan with greaseproof baking paper.

In a medium saucepan, melt the butter over medium-low heat until the butter melts. Continue to cook the butter until it turns golden brown and starts to smell nutty. This should take about 5 minutes. Set the browned butter aside to cool.

Once the butter is cool pour it into a medium mixing bowl and add in the oil, sugars, eggs, vanilla and salt. Whisk to combine.

Add in the flour, cocoa powder and fold into the batter until just combined. Gently stir in the chopped chocolate. Pour the batter into the lined baking tray and top with the chopped pecans.

Bake in the preheated oven for about 20-25 minutes until the brownies are shiny and crackly on top and the top is just set.

Remove from the oven and leave to cool for at least 30 minutes before slicing. *See notes
Notes
1- Once the brownies are cool enough to slice, use a sharp knife and wipe the knife after each cut to ensure a clean edge on each brownie.
2- Slice these brownies and keep them in the freezer for when you get a chocolate craving. They keep well for up to 6 months.
3- For a very indulgent dessert, heat the brownies and serve them with vanilla ice cream.
Nutrition
Calories:
320
kcal
|
Carbohydrates:
46
g
|
Protein:
6
g
|
Fat:
14
g
|
Saturated Fat:
5
g
|
Polyunsaturated Fat:
3
g
|
Monounsaturated Fat:
5
g
|
Trans Fat:
1
g
|
Cholesterol:
53
mg
|
Sodium:
191
mg
|
Potassium:
281
mg
|
Fiber:
4
g
|
Sugar:
33
g
|
Vitamin A:
107
IU
|
Vitamin C:
1
mg
|
Calcium:
58
mg
|
Iron:
3
mg