Welcome to a new year and a whole new budget meal plan! dinner meal plan full of easy family recipes that require few ingredients but deliver in the flavour department! The focus this week is large recipes that are cook-once-eat-twice recipes.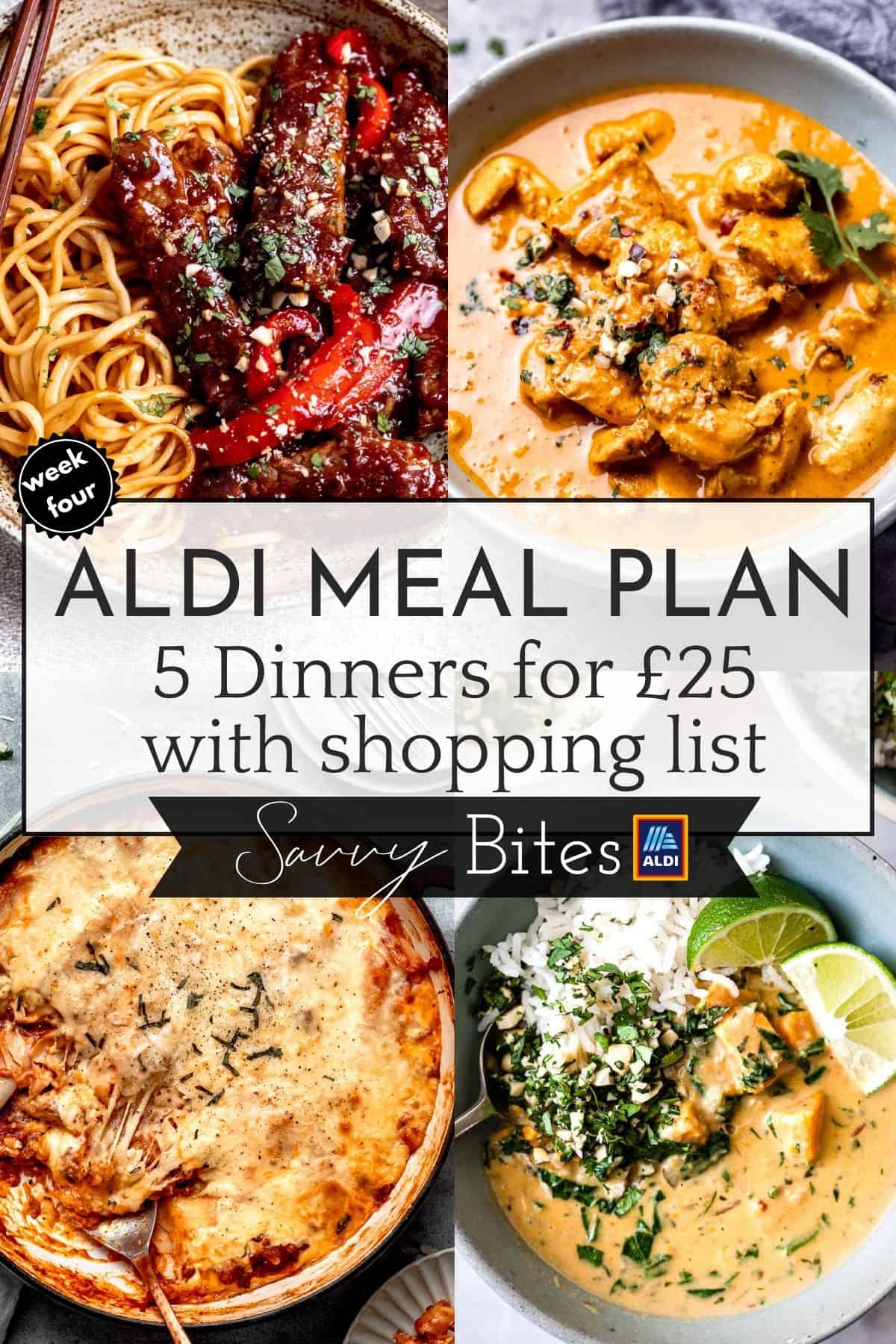 Aldi Budget Meal Plan Like this recipe? Pin it to your Meal Planning pinboard! Follow SavvyBites on Pinterest
---
This week's meal plan comes in at £26.99 ($32.53 USD)! These are all make-ahead dinners that feed more than 4. We're focusing on larger recipes this week, so you can make the most of leftovers.
*Please note- You won't need to make all the recipes this week. They are all large-batch recipes meant to feed you for a couple of days. So, the shopping list is organized by recipe, so you can decide which ones to cook and shop for accordingly.
Cooking on a budget shouldn't mean boring tasteless meals or the same dinner over and over. My meal plans include easy pasta recipes, one-pot meals, and simple slow cooker classics. But the one thing they all have in common is that they are budget-friendly and keep the ingredient list to a minimum. Cheap meals can be exciting, full of bold flavour, and still be nutritious and easy to make.
Dinner is on me! For the next 4 weeks, while these meal plans roll out I'll be giving away a £25 Aldi gift card each week to help get dinner on your table! *See bottom of post for details.
For the next 4 weeks, you'll be able to make 5 easy, healthy, and delicious dinners that you can make on a budget of £25.
Here's what's included:
Meal plan with 5 costed recipes for the week.
Itemised shopping list so you can check off what you have, so you just get the ingredients you need and don't forget anything.
Prep guide with quick tips to get ahead and how to store and reheat leftovers.
As with all my previous meal plans, these are completely free and will always be free.
You may want to make all five recipes and have leftovers for lunches, or you may pick just a couple and add them to your weekly rotation. Either way, these recipes are designed to fit into your life and make budgeting easier.
Week 4 Recipes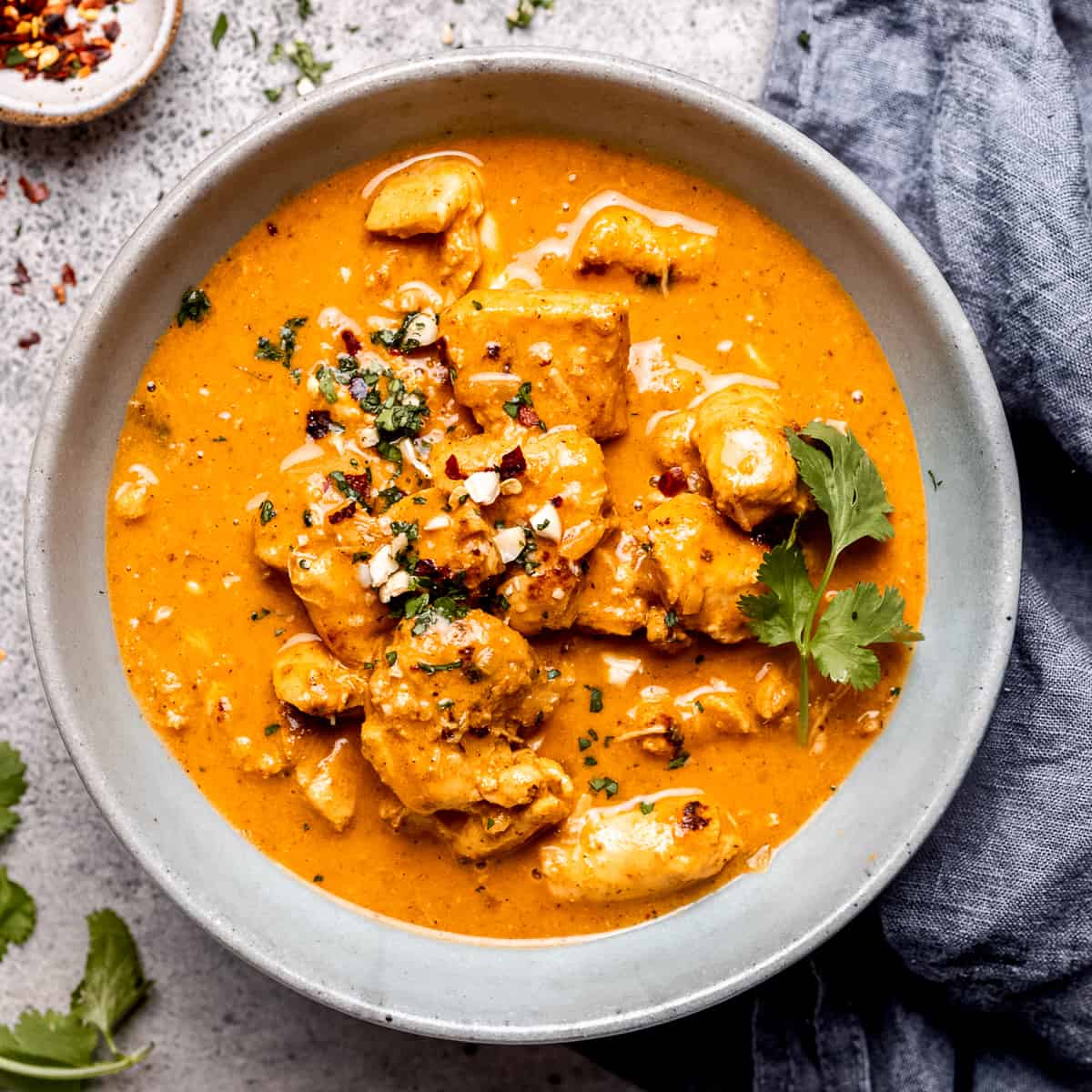 Dinner 1- Slow cooker chicken korma Recipe cost- £3.85
Slow Cooker Chicken Korma is made with chicken thighs because they're great for slow cooking. They are higher in fat, but they're also cheaper than chicken breast. This is a mild curry, but you can turn up the heat with some extra chilli flakes or cayenne.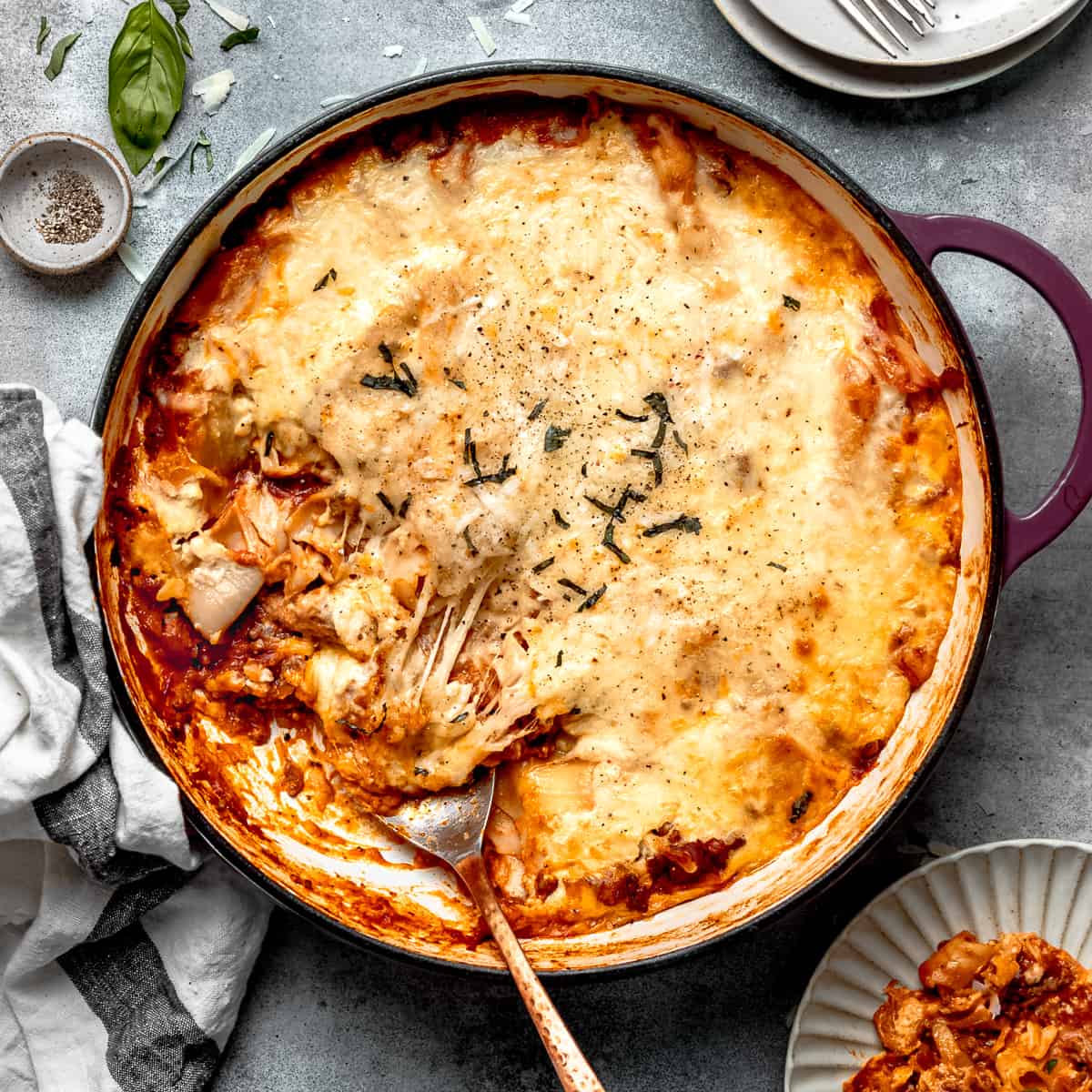 Dinner 2- One pot Lasagna Recipe cost £9.20
By far the highest-costing recipe on the website, but it also feeds 6-8 people easily, making it pretty cheap when you calculate the serving cost. And it is so worth it. You get all the flavours of a traditional lasagna cooked in one pan without any of the fuss.
*This is also perfect for freezing.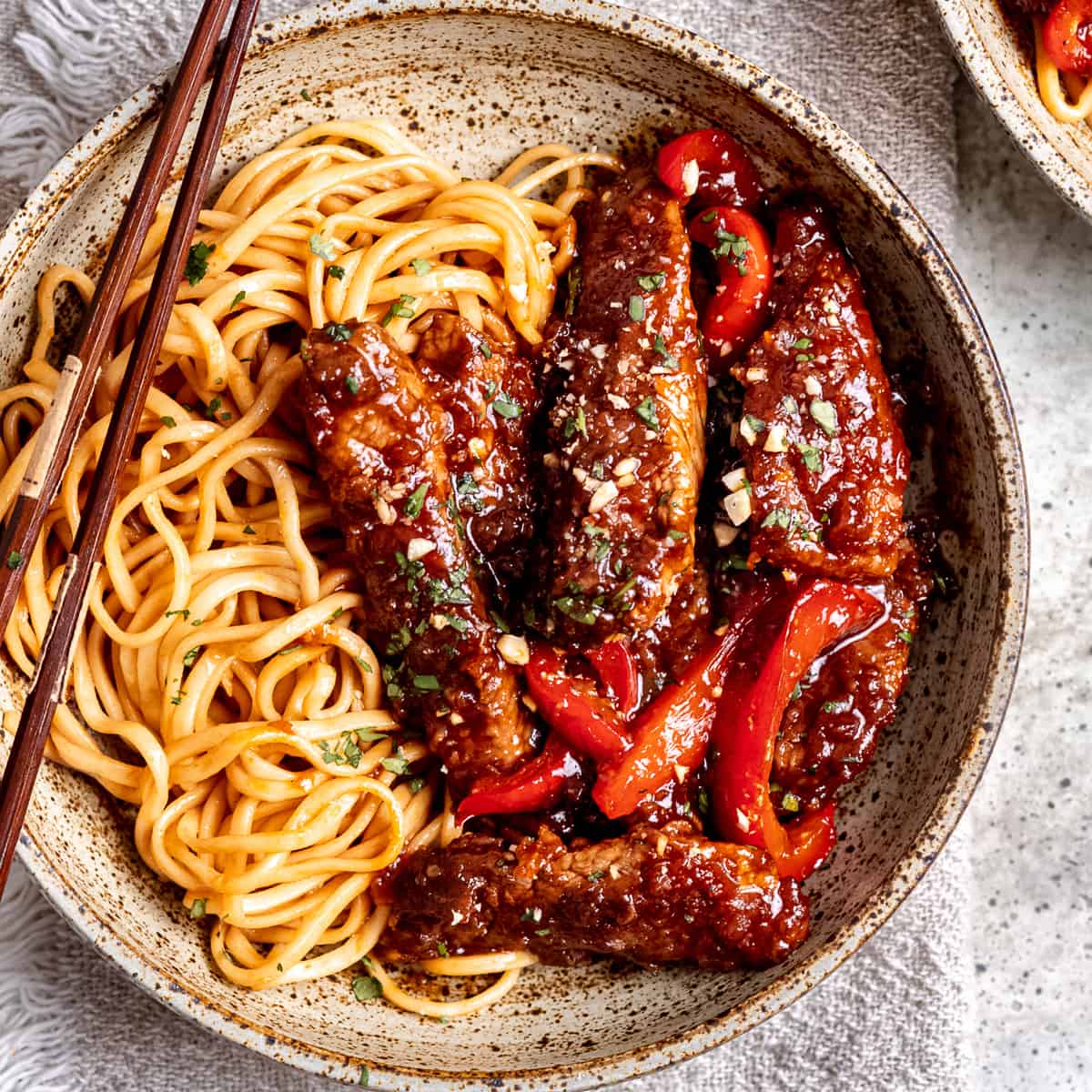 Dinner 3- Crispy chilli beef Recipe cost- £6.55
The perfect fakeaway. This shredded crispy chilli beef is a money saver when you calculate what a takeaway will cost you every week. It's also healthier and faster. Beef cut into tender strips and fried crispy before being tossed in a stick, sweet chilli sauce and served over noodles. You can serve with rice, too.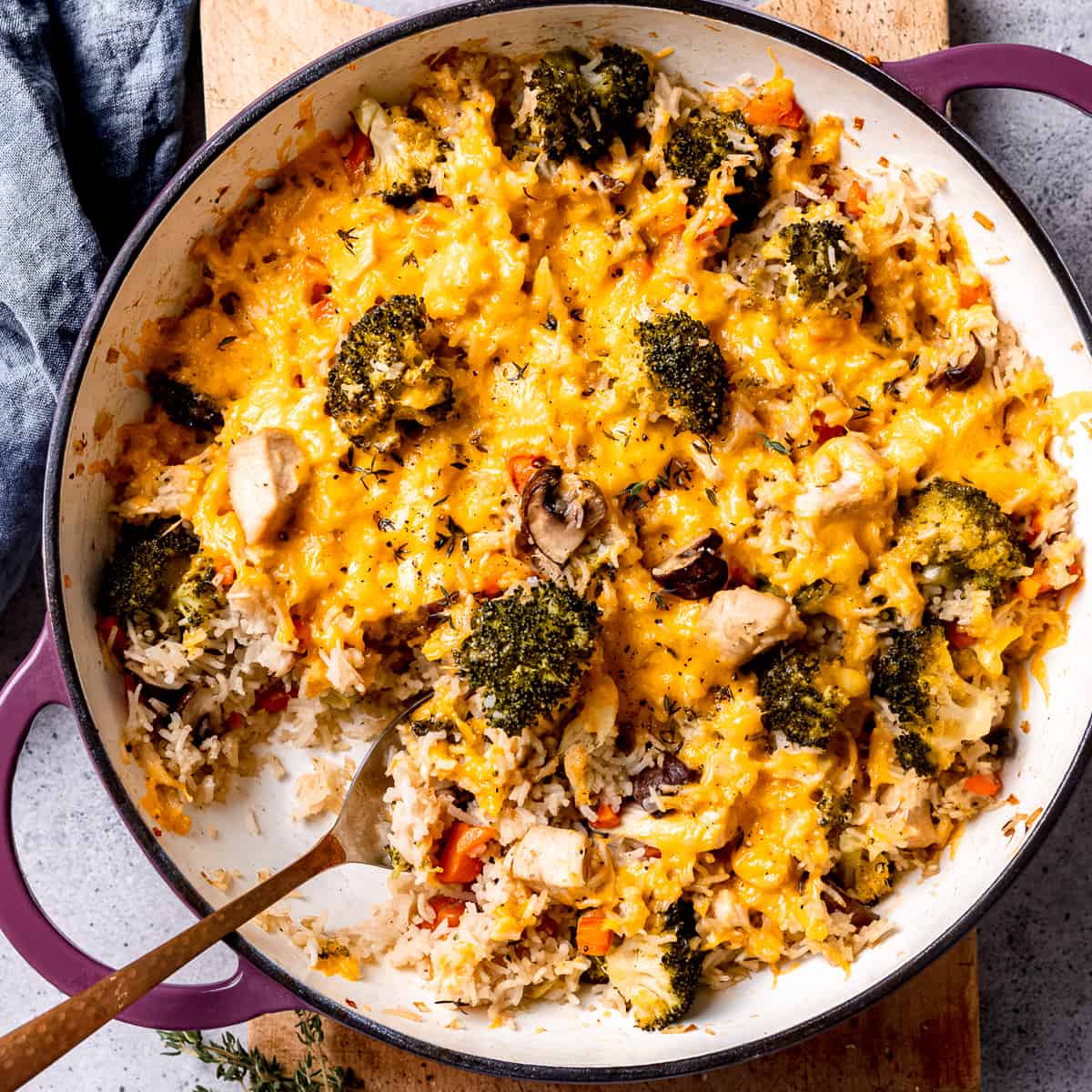 Dinner 4- One pot chicken and broccoli bake Recipe cost- £5.11
A Chicken and broccoli bake made in one pot with rice, vegetables, and tender chicken. All baked under a blanket of cheddar cheese topping. This easy chicken broccoli casserole is made with fresh ingredients only, skipping the tins of creamy soup!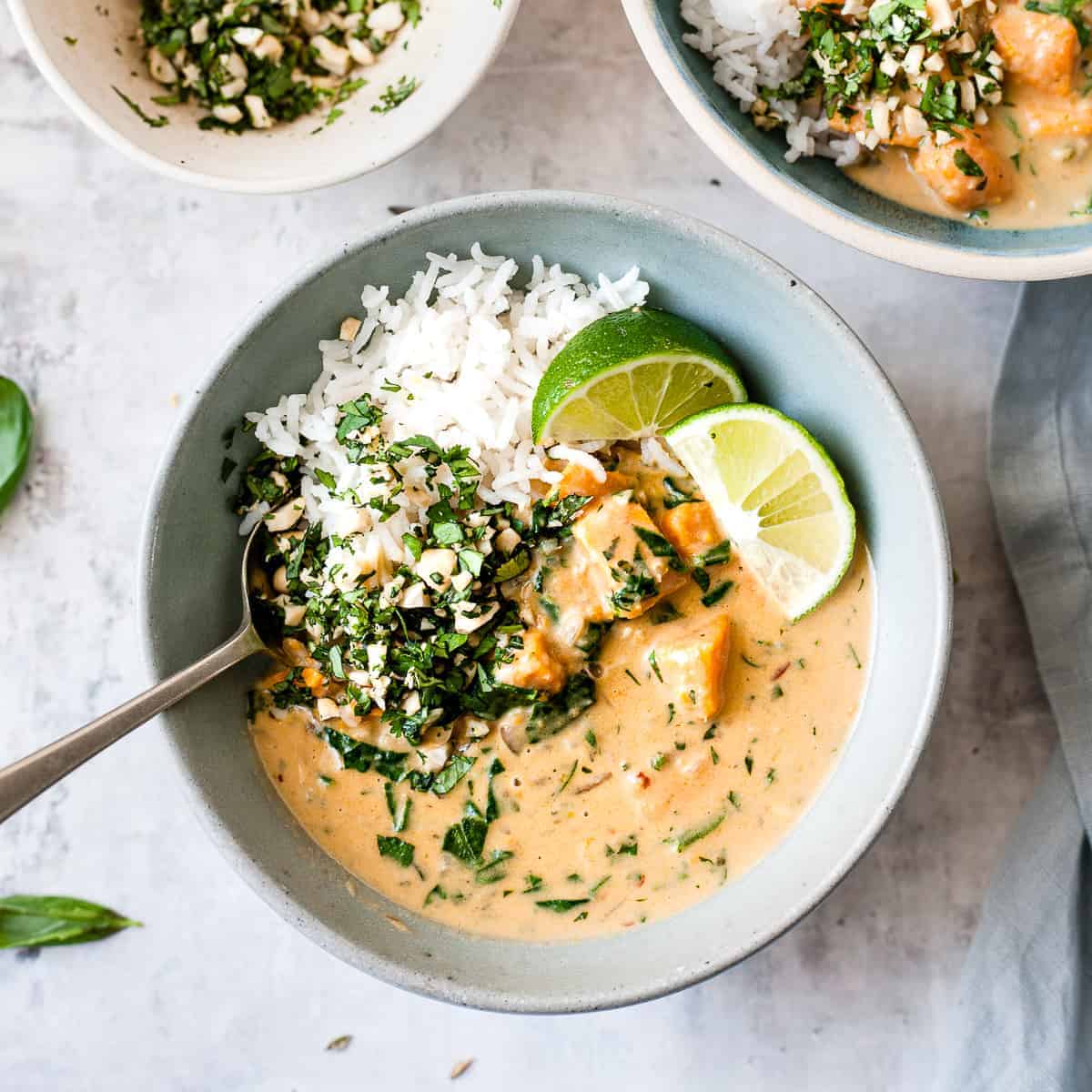 Dinner 5- Sweet potato curry Recipe cost- £2.28
This vegan curry is a pantry staple. Spices, coconut milk, and a few herbs are all you need. It's great for making ahead of time and saving for lunch all week, or to pop into the freezer for your busiest nights. *To get some extra protein you can add some vegan Quorn or tofu.
How did you cost the recipes?
Each recipe has been costed individually so you can decide which dinners you want to make based on how much each one cost.
Each recipe has been calculated adding the costs of each ingredient used, in the amount used, rather than adding the full price of items purchased. Some argue that you can't just buy 2 tablespoons of olive oil or soy sauce, so the recipe actually costs more to make.
The counterargument to that is that you don't buy an entire bottle of oil or sauce every time you make a recipe, nor do I consider an ingredient "free" if I already have it in my cupboards and didn't need to buy it for that recipe. Both methods have their caveats, but I find the method used here to be the most representative of the recipe's true cost.
Pantry staples
This meal plan was designed to use the least amount of ingredients possible to keep costs down, but to use them in unique combinations. So, you'll see alot of the same ingredients over and over. This not only keeps costs low but reduces waste. Below are the ingredients that you will see repeated.
olive oil
vegetable oil
salt
pepper
dried herbs and spices
Before you shop for this meal plan please check your cupboards and fridge/ freezer for ingredients you may already have.
*Especially items like fresh garlic, limes, lemons and fresh herbs.
Sign Up To Receive Our Full Meal Prep Guide
So yes, now you have a list of links that gives you what you need to make a seriously delicious week of meals.
But we took it a step further than just a list of links.
We have a full grocery list and meal prep guide for you!
This £25 meal plan series is 4 weeks long. That means that you'll get all 4 plans, along with the shopping list, and the prep guide sent to you every week so you have a month of dinners taken care of for £100!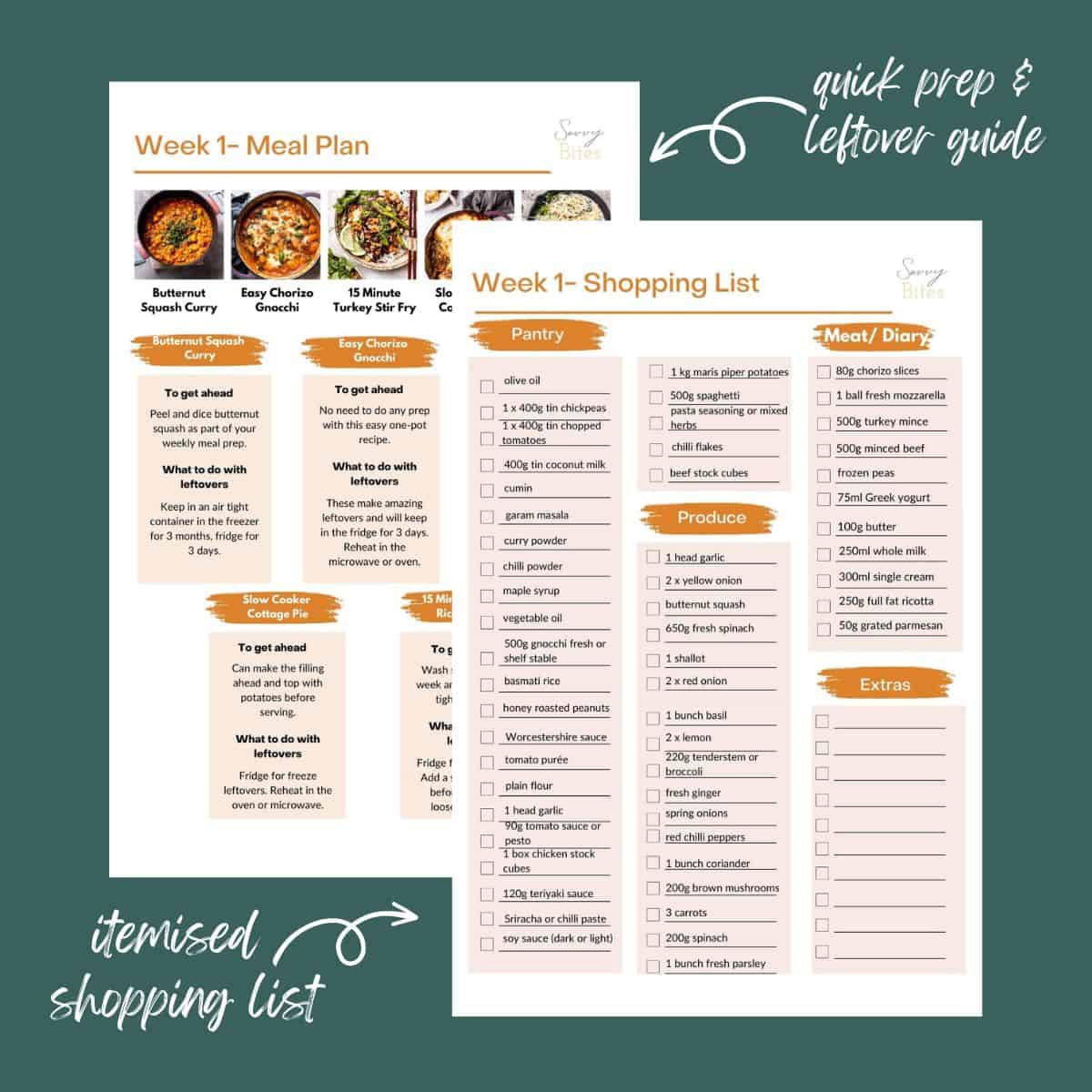 How to get me to buy you dinner?
For the next 4 weeks, I'll be giving away a £25 Aldi gift card!
How to enter
To enter this promotion, visit Instagram and do the following:
1. Follow Savvy Bites (@savvy.bites) on Instagram; and
2. Like the post and tag at least one friend in the comments section of the Savvy Bites £25 Week One Instagram post advertising the prize draw.
One winner will be randomly selected using a computer process on 12/02/2023
I would love to know what your experience is with meal planning. Drop a comment below and let me know if you love meal plans or if you're a cook who wings it at dinner time!
You can also follow along on Pinterest, Facebook, and Instagram and join our private Facebook Group Facebook group to share more recipe ideas and all your photos!