These fluffy bakery-style blueberry chocolate chip muffins are made with fat-free Greek yogurt, fresh juicy blueberries, and dark chocolate chips. Sprinkled with a cinnamon streusel for crunch, these muffins are perfect for brunch, breakfast, or with tea.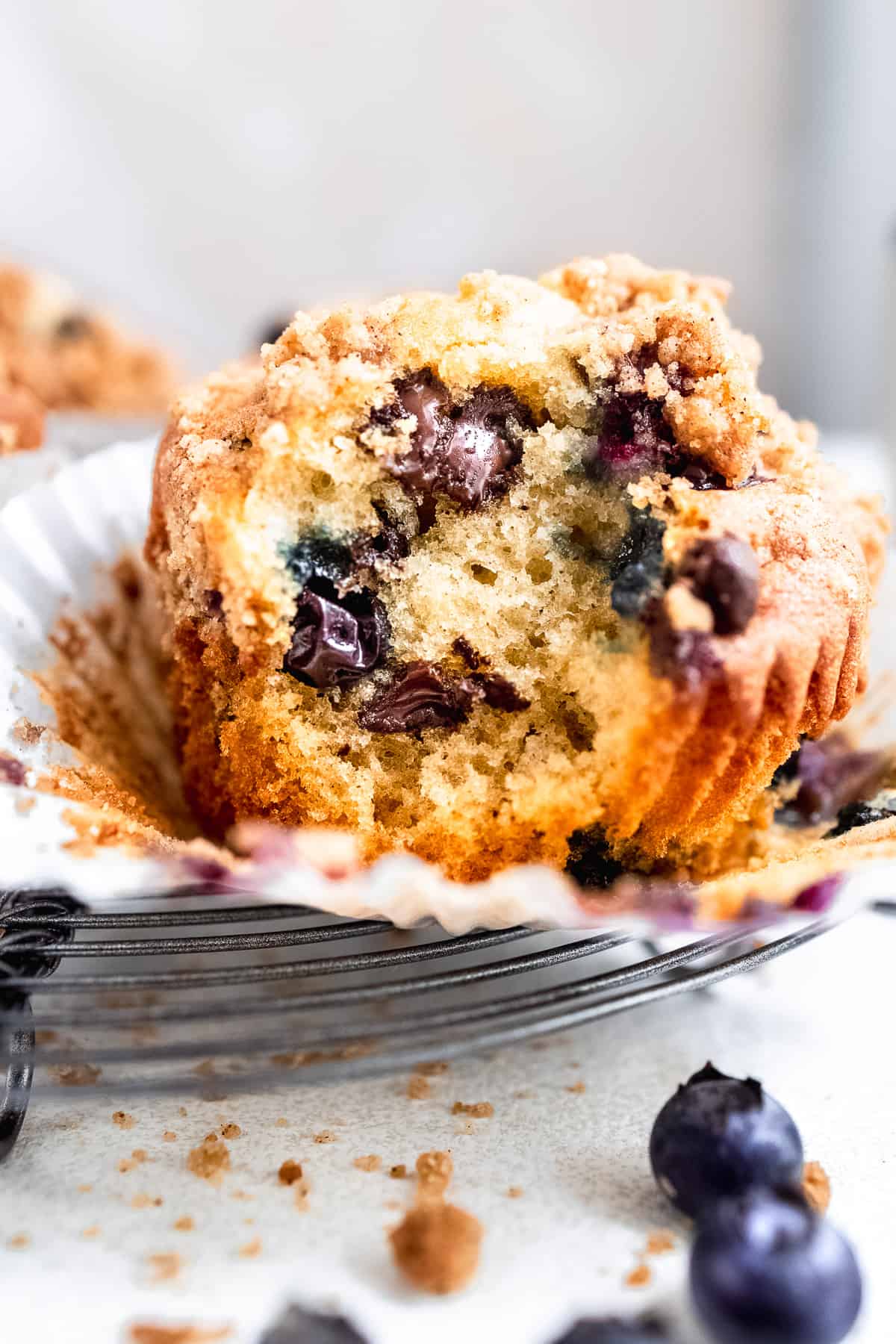 If you love fruit and chocolate in muffins then you must try these raspberry white chocolate muffins or these banana chocolate muffins. But what all these muffins have in common is that they're easy to make for even a beginner baker. And these chocolate blueberry muffins are made with a basic muffin recipe. Creaming the butter and sugar, adding eggs and yogurt, then folding in flour and raising agents. See the step by step images to get all the tips to make the perfect muffins.
Jump to:
Why You'll Love This Recipe
These chocolate muffins with blueberries are perfect for breakfast because they have fat-free Greek yogurt instead of sour cream.
The cinnamon streusel topping adds a crunch as well as balances the tart sweetness of the blueberries and brings out the warmth of the dark chocolate chips.
They stay moist for days, meaning you can make them and freeze any leftovers for a few weeks/ months.
Ingredients needed
blueberries- fresh *you can use frozen, but see the recipe card for notes on that.
dark chocolate chips- I prefer dark because they're not as sweet as milk or white chocolate. And please use chips, rather than chunks because they hold their shape when baked.
light brown sugar- dark brown sugar works well too.
large eggs- at room temperature
butter- at room temperature *salted is fine here
fat- free Greek yoghurt- sour cream also works very well here, too. I just wanted to keep these on the healthier side with fat-free yogurt. You won't notice a difference in texture.
plain (all-purpose) flour
See the recipe card for quantities.
Step By Step Instructions
1 & 2- Making the streusel
Place all the streusel ingredients in a bowl and use your fingers to blend everything together until you have a crumbly mixture. Set that aside while you make the muffin batter.
3 & 4- Making the muffin batter
Cream the butter and sugars together until they are light and fluffy. Use an electric hand whisk for this in order to get lots of air in the butter and sugar.
5 & 6
Add the eggs and fat-free Greek yogurt to the bowl and mix well. The mixture will look split but don't worry. It all comes back together when you fold in the flour.
7 & 8
Fold in the blueberries and chocolate chips. Use an ice cream scoop or a spoon to drop the muffin batter into the lined muffin tins.
9 & 10 Baking blueberry chocolate chip muffins
Sprinkle the crumble topping over the muffins and bake in the preheated oven for about 20 minutes, until the muffins have risen and are golden with domed tops and the blueberries have started to burst.
Hint: Preheat the oven to 200c and bake the muffins for 5 minutes before turning it down to 180c to continue baking for another 15 minutes. The higher temperature at the beginning really helps the muffins rise.
Recipe: FAQ
Oil vs butter in a muffin. What's the difference?
The biggest function of oil in most baking recipes is to keep your muffin moist. It captures the gases that are released from the interaction of the baking powder and the bicarb of soda and slows down gluten formation to keep certain baked goods tender and fluffy in texture.
Butter adds flavour and richness. In the case of these muffins I've used only butter because the Greek yogurt adds so much moisture the oil isn't necessary. But in these courgette muffins, oil is what keeps them soft, fluffy and moist.
How can I get my muffins as fluffy as possible?
Raising agents! Leavening is the key to fluffy muffins. Make sure your baking powder and bicarb of soda (baking soda) are fresh to ensure that they are most effective. But measure accurately. If you add too much raising agent, then the muffins will rise too quickly and collapse making them dense and tough.
How do you get muffins to rise higher?
Here are 5 simple ways to get sky-high muffins that are soft, fluffy and moist.
Make sure you preheat the oven well and start at a higher temperature. Once the muffin batter hits the oven, the heat will activate the raising agents and the muffins will start to rise. If the oven temperature is too cool the muffins will start to spread.
All ingredients should be at room temperature. When everything is warmer you're able to incorporate much more air into the batter. Especially when creaming the butter and sugar.
Get the muffins into the oven as soon as possible. Raising agents are activated by heat and moisture. So, once you add the wet ingredients to the dry ingredients the rising starts so muffins need to get into the oven ASAP.
Fill the muffin liners to the top. A well filled muffin liner means that you have enough batter to make a good sized muffin that will rise above the rim of the muffin tin.
A nice thick batter helps to get muffins to rise higher. A thinner batter will mean muffins that spread out because they don't have the structure to handle the weight of tall muffin tops. So, be sure to measure wet ingredients accurately.
Substitutions & Variations
These blueberry chocolate chip muffins are easily customizable for your dietary or ingredient needs. Here are some of the easiest ways you can change them up.
frozen blueberries - instead of fresh blueberries you can use frozen, just don't defrost them. Toss them in a little bit of flour before adding to the muffin batter. The light dusting of flour helps them to stick throughout the batter rather than sinking to the bottom while baking.
milk chocolate - you can use milk chocolate chips here (or even white). Just be sure to use chips because they keep their shape while baked rather than chunks which would melt into the muffins making them very messy.
gluten-free - use your favourite gluten free flour and just follow the instructions as usual.
Equipment
Equipment can have a big impact on how a recipe turns out, especially bakeware. It's getting good quality muffin tins, but they don't have to be expensive. These ones are great cheap tins that I highly recommend.
Storage
Store the muffins in an airtight container for the first couple of days, then store in the fridge for up to 5 days..
Freezer- wrap in foil or in a freezer-safe container and freeze for up to 2 months.
Need help with meal planning? You can find our (Aldi ingredients only) weekly meal plans here! Sign up to receive them free every week or take our quick meal planning course and grab the blank meal planner and use all these recipes to create your own meal plans. Follow along on Pinterest, Instagram and Facebook.
The Best Jumbo Blueberry Chocolate Chip Muffins- Easy
These jumbo blueberry muffins bake up light and fluffy. They're soft and moist and packed with juicy blueberries and sweet dark chocolate chips.
Print
Pin
Rate
Ingredients
For the streusel crumble topping
50

g

butter

,

softened

75

g

light brown sugar

75

g

plain flour

1

tablespoon

cinnamon
For the muffin batter
110

g

butter

,

softened

100

g

caster or granulated sugar

40

g

light brown sugar

2

large eggs

,

room temperature

125

g

fat free Greek yogurt

1

teaspoon

vanilla extract

225

g

plain flour

1

teaspoon

baking powder

1

teaspoon

bicarb of soda

200

g

fresh blueberries

40

g

dark chocolate chips
Instructions
Instructions

Preheat to the oven to 200c and line a muffin tin with muffin liners.

To make the streusel topping- place all the crumble topping ingredients into a medium bowl and using your fingers work the butter into the dry ingredients until a chunky crumble forms. Set aside while you make the batter.
For the muffin batter-
In a medium bowl, cream the butter and sugar using an electric whisk. Mix for 3-5 minutes until the butter is pale and light and fluffy.

Add in the eggs, Greek yogurt and vanilla and whisk into the butter and sugar mixture. The mixture may look split. This is perfectly normal and will come back together once you add the dry ingredients.

Fold the flour, baking powder and bicarb of soda into the butter and egg mixture. Mix just until the flour is incorporated. Be careful to not over mix. Add the blueberries and chocolate chips into the batter and fold into the mixture.

Use an ice cream scoop to drop the muffin batter into the lined muffin tin. Generously sprinkle the crumble topping over each muffin and place in the preheated oven. Bake at 200c for 5 minutes then turn to oven down to 180c and continue to bake for another 15-20 minutes until the muffins have risen, are golden and the blueberries have started to burst.
Notes
The muffins are baked when a toothpick inserted into a muffin comes out with a few moist crumbs.
If using frozen blueberries, toss them with a little bit of flour to make sure they don't sink to the bottom of the muffins while baking.
Nutrition
Calories:
304
kcal
|
Carbohydrates:
43
g
|
Protein:
5
g
|
Fat:
13
g
|
Saturated Fat:
8
g
|
Polyunsaturated Fat:
1
g
|
Monounsaturated Fat:
3
g
|
Trans Fat:
0.4
g
|
Cholesterol:
56
mg
|
Sodium:
235
mg
|
Potassium:
100
mg
|
Fiber:
2
g
|
Sugar:
22
g
|
Vitamin A:
384
IU
|
Vitamin C:
2
mg
|
Calcium:
57
mg
|
Iron:
2
mg