This easy blueberry muffin recipe is the perfect home-baked treat. These muffins, are a delectable blend of sweet and tart, and are a breeze to prepare. With a preparation time of just under 45 minutes, these homemade muffins stand out with their buttery softness and burst of fresh blueberries in every bite.
If you are looking for more blueberry recipes, you should look at our lemon blueberry drizzle cake, these soft and fluffy blueberry scones or these blueberry chocolate muffins. They will become new baking favourites in no time!
Jump to:
⭐️ Why you'll love these blueberry muffins
A perfect balance of sweetness and tangy blueberries.
Easy to follow recipe for both beginners and experienced home chefs.
Quick preparation time.
Ideal for breakfast, brunch, or a snack.
Moist, soft, and packed with flavour.
🧾 Ingredients for moist blueberry muffins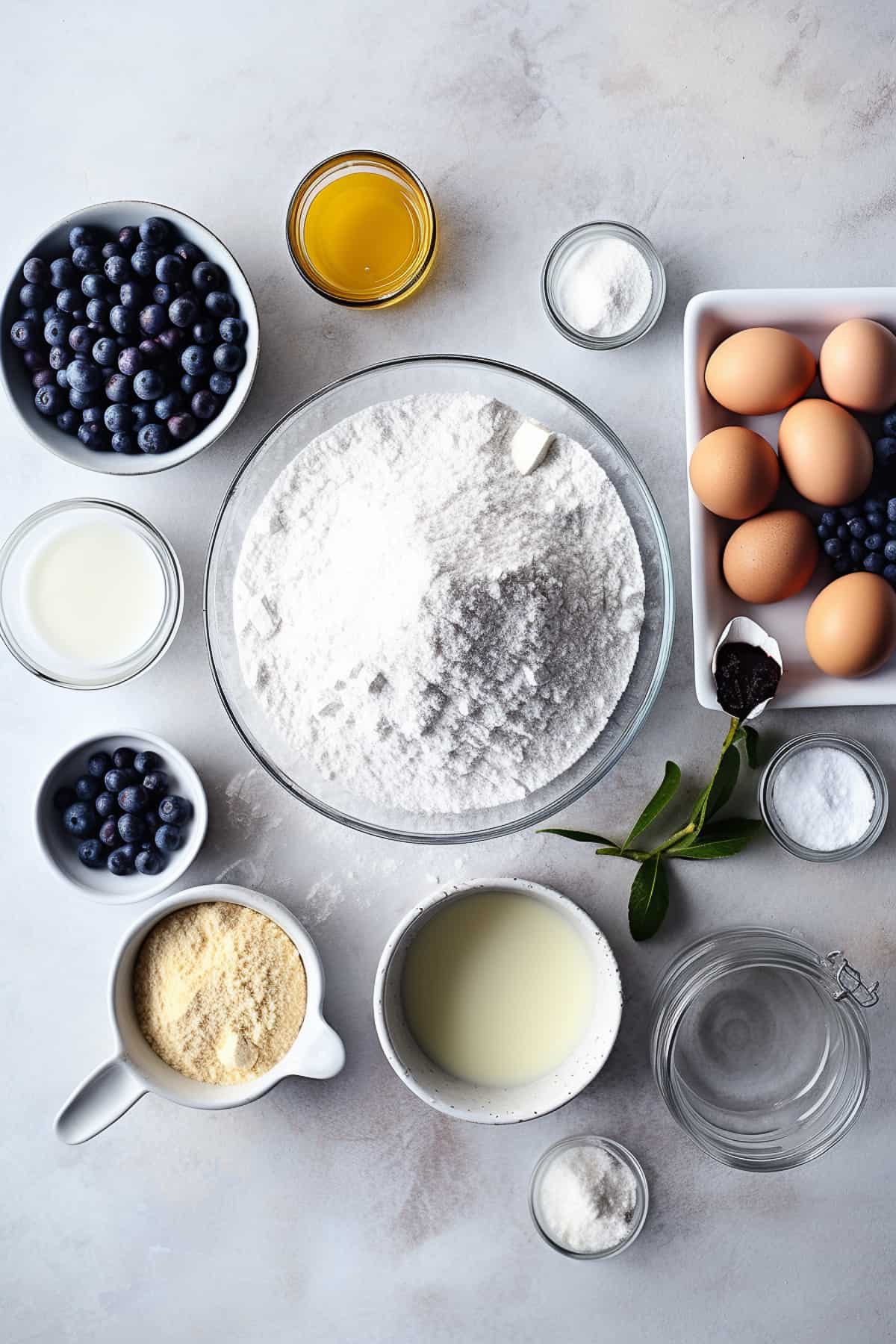 Plain/All-purpose flour: Creates a perfect tender crumb for the muffins.
Baking powder: A necessary leavening agent that helps the muffins rise.
Salt: Enhances the flavours of the other ingredients.
Butter: Provides a rich, buttery taste to the muffins.
Vegetable oil: Creates a very soft and tender crumb and keeps the muffins moist.
Granulated sugar: Adds sweetness and helps in browning.
Eggs: Acts as a binding agent and adds moisture.
Vanilla and almond extracts: Infuse the muffins with warm, sweet flavours.
Milk: Contributes to the moist, soft texture of the muffins.
Fresh blueberries: Gives a burst of tangy sweetness in every bite.
See recipe card for quantities.
📖 Substitutions & Variations
Variations

Streusel Topping: Mix brown sugar, cinnamon, and chopped walnuts. Sprinkle over the muffin batter before baking for an extra crunch. *Or you can use this crumble topping for incredible muffins.
Add-ins: Add a teaspoon of lemon zest or a half cup of chopped pecans to your batter for a flavour twist.

Substitutions

Blueberries: If you don't have fresh blueberries, you can substitute with frozen ones. Just remember not to thaw them to prevent colour bleeding.
Milk: Almond or soy milk can be used for a dairy-free version.
Butter: You can substitute the same amount of coconut oil for a healthier alternative.
👩🏻‍🍳 Making blueberry muffins in 4 simple steps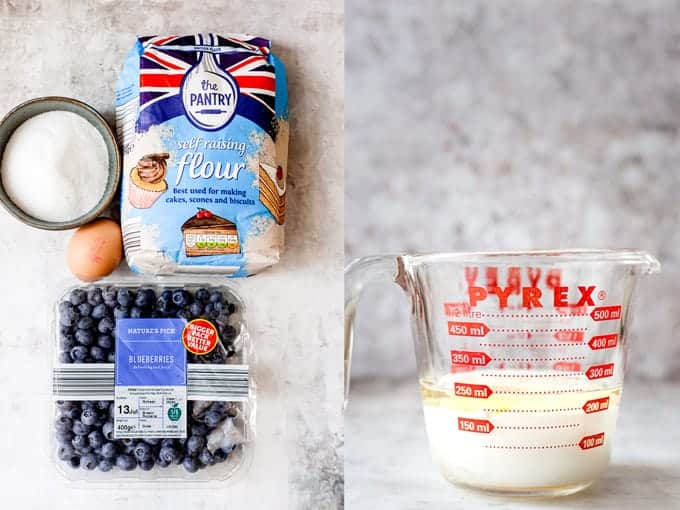 Prepare your oven and muffin tin: Preheat the oven to a high temperature and line a muffin tin with paper liners. A high initial temperature helps to create a well-risen muffin top.
Mix dry ingredients: Combine plain/ all-purpose flour, baking powder, and salt in a large bowl.
Prepare the butter-sugar base: Whisk the melted butter, neutral oil and granulated sugar together until creamy.
Incorporate eggs and extracts: Add in the eggs, one at a time, along with vanilla and almond extracts.
💡Can I use frozen blueberries in this muffin recipe?
Absolutely! You can definitely use frozen blueberries in this recipe. One of the great things about blueberry muffins is their flexibility when it comes to the star ingredient.
When using frozen blueberries, there's no need to thaw them beforehand. You can fold them directly into the batter. However, remember that frozen blueberries might bleed into the batter a little more than fresh blueberries, potentially turning it into a light purple hue. But don't worry, it won't affect the taste of your muffins; they'll be just as delicious!
A pro tip when using frozen blueberries: To minimize colour bleeding, toss them in a tablespoon or so of flour from the recipe before folding them into the batter. This will help to keep them distributed evenly throughout each muffin, rather than sinking to the bottom.
So, whether you've picked your blueberries fresh or you have a stash in your freezer, they can all be used to make these delightful muffins!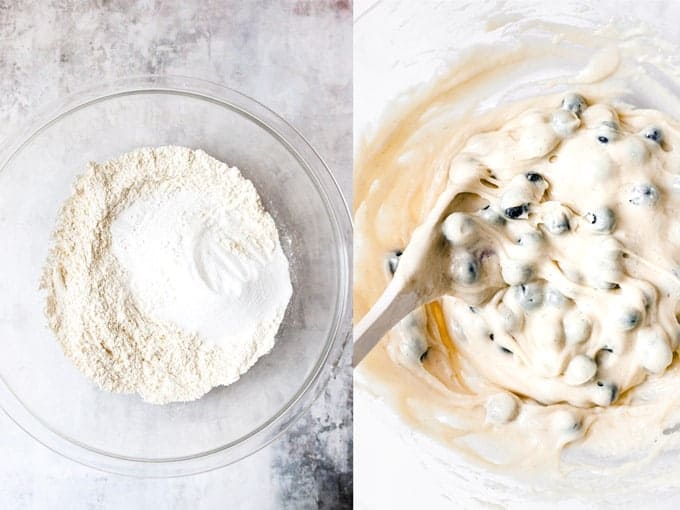 Combine dry and wet mixtures: Gradually incorporate the dry ingredients into the wet mixture.
Add blueberries and milk: Fold in the blueberries and add milk, taking care to not overmix.
Fill the muffin tin: Evenly distribute the muffin batter into the tin. Sprinkle turbinado sugar on top for that extra crunch.
Bake: Bake until a toothpick inserted in the middle comes out clean. Let them cool in the pan for a few minutes before transferring to a wire rack.
Hint: Be sure not to overmix your batter, as this can lead to tough muffins.
💡 Why did my muffins come out dry?
If your muffins turned out dry, you may have overmixed the batter, overbaked them, or used too much flour. Be sure to measure your ingredients carefully and keep an eye on the muffins as they bake.
🔪 Equipment
Good quality baking equipment can make a huge difference in your baking experience and the final product. These are our favourite pieces.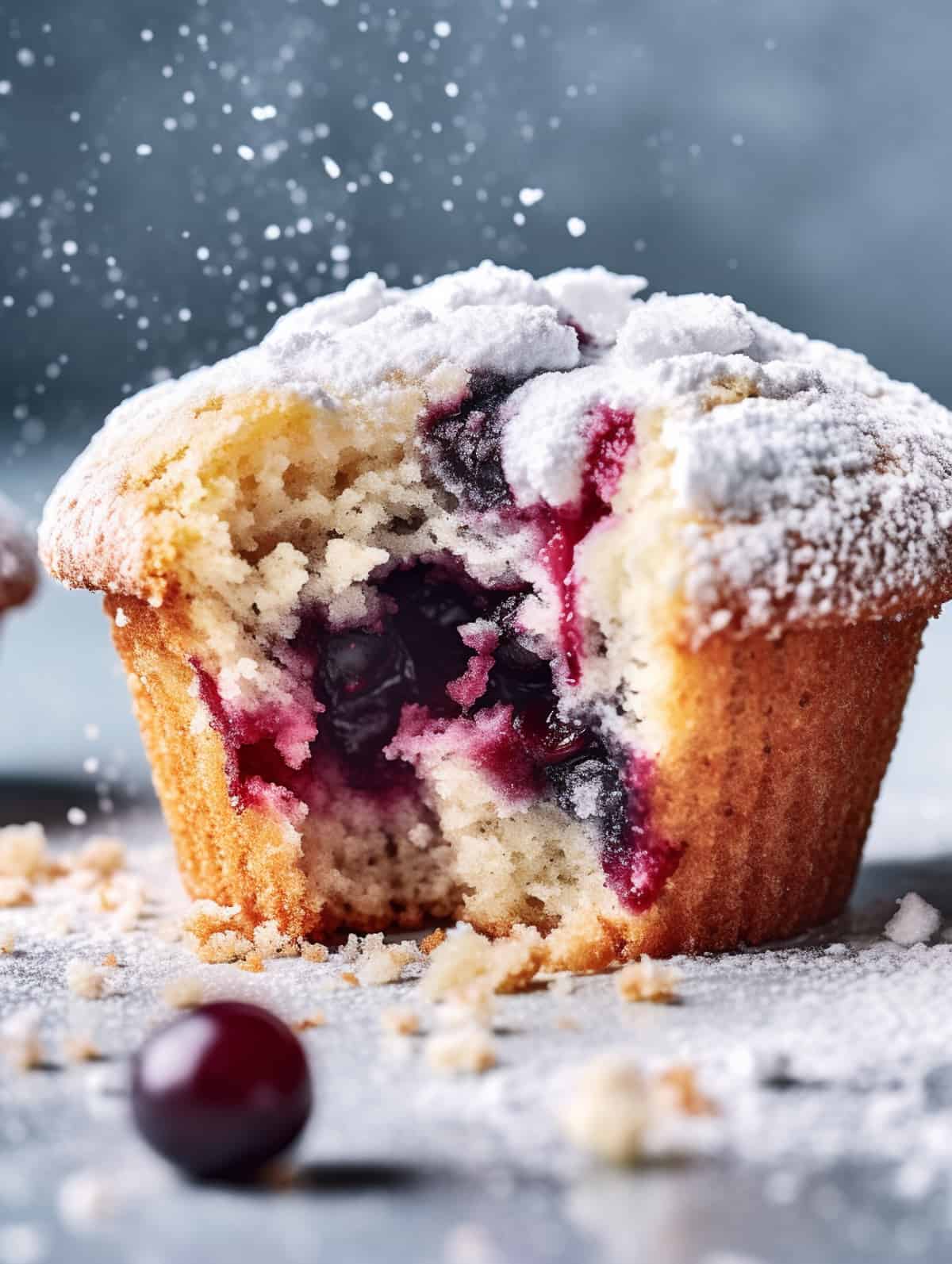 🍯 Storage
Fridge: Store in an airtight container at room temperature for up to 5 days.
Freezer: After the muffins have cooled completely, you can freeze them for up to 3 months.
Reheat: If frozen, thaw in the fridge or at room temperature before serving.
❓FAQ
Can I use other fruits instead of blueberries?
Absolutely! This recipe is versatile. You can use the same amount of raspberries, chopped strawberries, or even chocolate chips.

Can I use whole meal/ whole wheat flour for this recipe?
Yes, you can substitute half of the plain or all-purpose flour with whole wheat flour. However, this may give your muffins a denser texture.

Are blueberry muffins healthy?
The healthiness of blueberry muffins depends on the recipe and ingredients. Traditional recipes can be high in calories and low in nutrients. However, you can make them healthier by using whole grain flour for more fiber, reducing sugar, substituting with healthier fats like olive oil.
These particular muffins wouldn't be considered healthy, but they are certainly better than anything you can buy, because they're fresh and homemade without any additives and preservtatives.
This easy blueberry muffin recipe is perfect for beginners and experienced bakers alike. Don't hesitate to make this recipe your own by adding your favourite ingredients or adjusting flavours to your liking. Happy baking!
More baking with fruit
Looking for more recipes with fruit? Try these:
If you tried this Recipe or any other recipe on my website, please let me know in the comments below. I love hearing from you. Also, please leave a star rating whilst you're there!
You can also follow along on Pinterest, Facebook, and Instagram and join our private Facebook Group Facebook group to share more recipe ideas and all your photos!
Need help with meal planning? You can find our (Aldi ingredients only) weekly meal plans here! Sign up to receive them free every week or take our quick meal planning course and use all these recipes to create your own meal plans.
You can also find more comfort food recipes using everyday ingredients over on our sister site Salted Mint.
Ultimate Moist & Flavourful Blueberry Muffins
Delightfully soft and bursting with fresh blueberry flavour, these muffins are perfect for a relaxed weekend brunch or a quick breakfast on the go. The magic blend of butter and vegetable oil brings an exceptional balance of flavour and moisture.
Print
Pin
Rate
Ingredients
240

g

(2 cups) all-purpose flour

150

g

(¾ cup) granulated sugar

2

teaspoon

baking powder

½

teaspoon

baking soda

¼

teaspoon

salt

Zest of 1 lemon

120

ml

(½ cup) vegetable oil

60

g

(¼ cup) unsalted butter, melted

2

large eggs

,

room temperature

120

ml

(½ cup) milk

,

room temperature

1

teaspoon

vanilla extract

250

g

(1 ½ cups) fresh or frozen blueberries
Instructions
Preheat Oven and Prep Muffin Tin
Preheat your oven to 190°C (375°F). Line a muffin tin with paper liners or grease with butter.
Mix Wet and Dry Ingredients Separately
In a large bowl, whisk together the flour, sugar, baking powder, baking soda, salt, and lemon zest.

In a separate bowl, mix the vegetable oil, melted butter, eggs, milk, and vanilla extract.
Combine Wet and Dry Ingredients
Gradually add the wet ingredients to the dry ingredients. Stir until just combined. Over-mixing can result in tough dry muffins.
Fold in Blueberries, Fill Muffin Tin and Bake
Gently fold the blueberries into the batter.

Scoop the batter into the prepared muffin tin. Bake for 20-25 minutes or until a toothpick inserted in the center of a muffin comes out clean.
Cool and Serve
Remove from the oven and let the muffins cool in the tin for 5 minutes. Transfer to a wire rack to cool completely before serving.
Notes
Butter & Oil: This recipe uses both butter and vegetable oil. Butter is unbeatable for flavour, while oil ensures a moist crumb.
Frozen Blueberries: You can use frozen blueberries in this recipe. No need to thaw them before adding them to the batter. This may slightly increase the baking time.
Storage: These muffins can be stored in an airtight container at room temperature for up to 3 days, or frozen for up to 3 months.
Nutrition
Calories:
322
kcal
|
Carbohydrates:
38
g
|
Protein:
4
g
|
Fat:
18
g
|
Saturated Fat:
5
g
|
Polyunsaturated Fat:
7
g
|
Monounsaturated Fat:
4
g
|
Trans Fat:
0.3
g
|
Cholesterol:
47
mg
|
Sodium:
257
mg
|
Potassium:
78
mg
|
Fiber:
1
g
|
Sugar:
18
g
|
Vitamin A:
231
IU
|
Vitamin C:
2
mg
|
Calcium:
75
mg
|
Iron:
1
mg