Struggling to keep your meals exciting without breaking the bank? Meet Meal Plan 133—a complete weekly menu planner packed with budget-friendly family meals that won't skimp on flavour. These recipes take 30 minutes or less, making this the best time-saving meal plan for busy families. The ingredients for this meal plan come to just £23.44 ($29).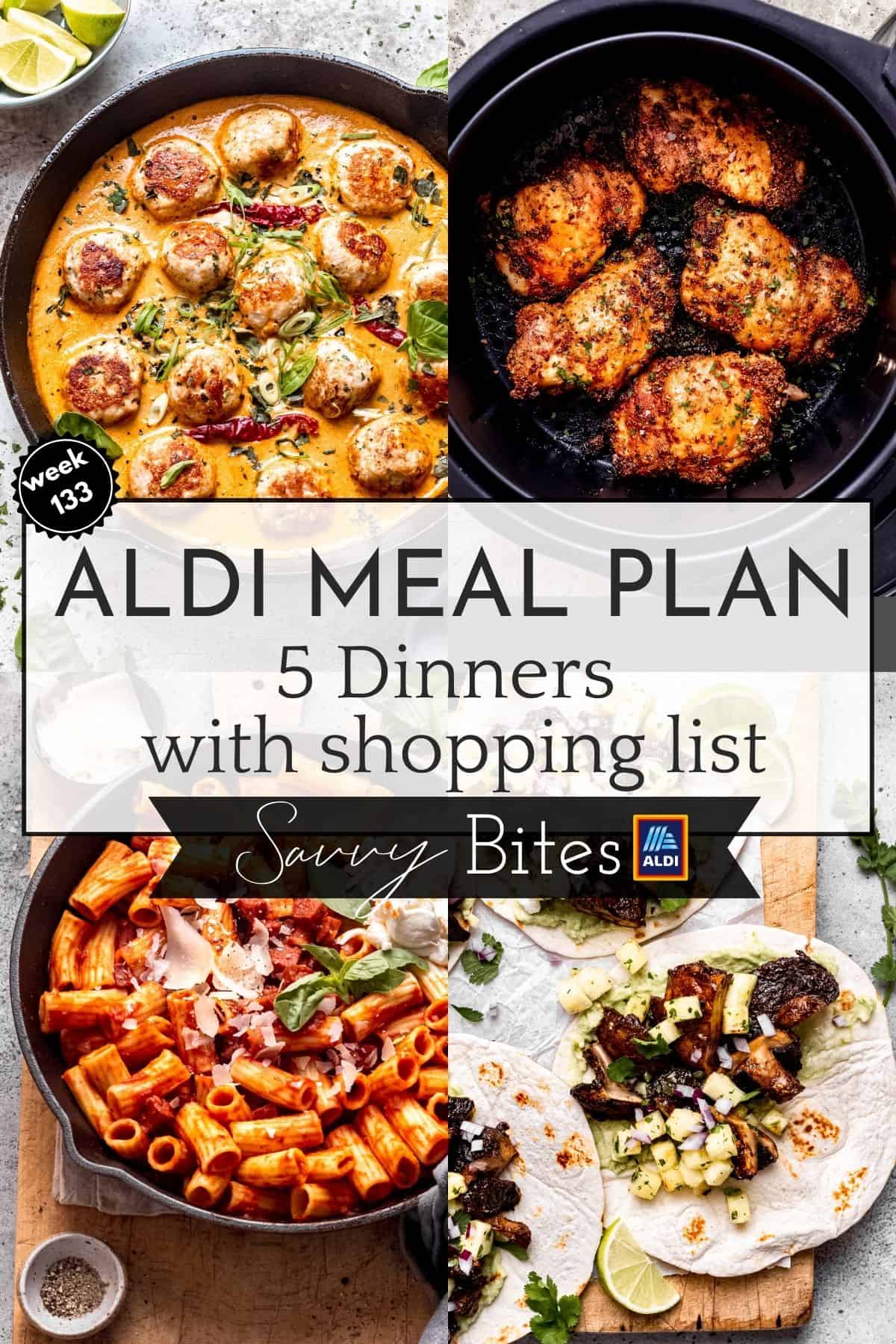 Aldi Budget Meal Plan Like this recipe? Pin it to your Meal Planning pinboard! Follow SavvyBites on Pinterest
---
Jump to:
From easy 30-minute dinners to simple one-pot wonders, discover how to keep your grocery bill low without sacrificing taste.
The secret to cooking on a budget
Who says cheap meals have to be bland or repetitive? Our meal plans are built on a foundation of easy pasta recipes, convenient one-pot meals, and fool-proof slow cooker classics. Best of all, each dish on this week's menu is budget-friendly and designed for maximum flavour with minimal ingredients.
More meal plan options to explore
Craving variety? Explore our extended collection of cheap budget meals for families like these meal plans, this slow cooker special meal plan, one of our most popular plans, easy budget plan, or our collection of easy chicken pasta recipes.
Here's what's included:
Meal plan with 5 costed recipes for the week.
Itemised shopping list so you can check off what you have, so you get the ingredients you need and don't forget anything.
Prep guide with quick tips to get ahead and how to store and reheat leftovers, and a special section on how to reinvent leftovers into something new!
🛒 What's Included in Meal Plan 133?
The Weekly Menu

Your Meal Plan 133 features 5 meticulously costed recipes that will see you through the week without breaking the bank.

Your Shopping List

An itemized shopping list is provided to help you tick off what you already have and ensure you pick up everything you need.

Meal Prep and Leftovers Guide

We even include quick prep tips and ideas for transforming your leftovers into a whole new meal!
As with all my previous meal plans, these are completely free and will always be free.
You may want to make all five recipes and have leftovers for lunches, or you may pick just a couple and add them to your weekly rotation. Either way, these recipes are designed to fit into your life and make budgeting easier.
👩‍🍳 Recipe Highlights and printable meal plan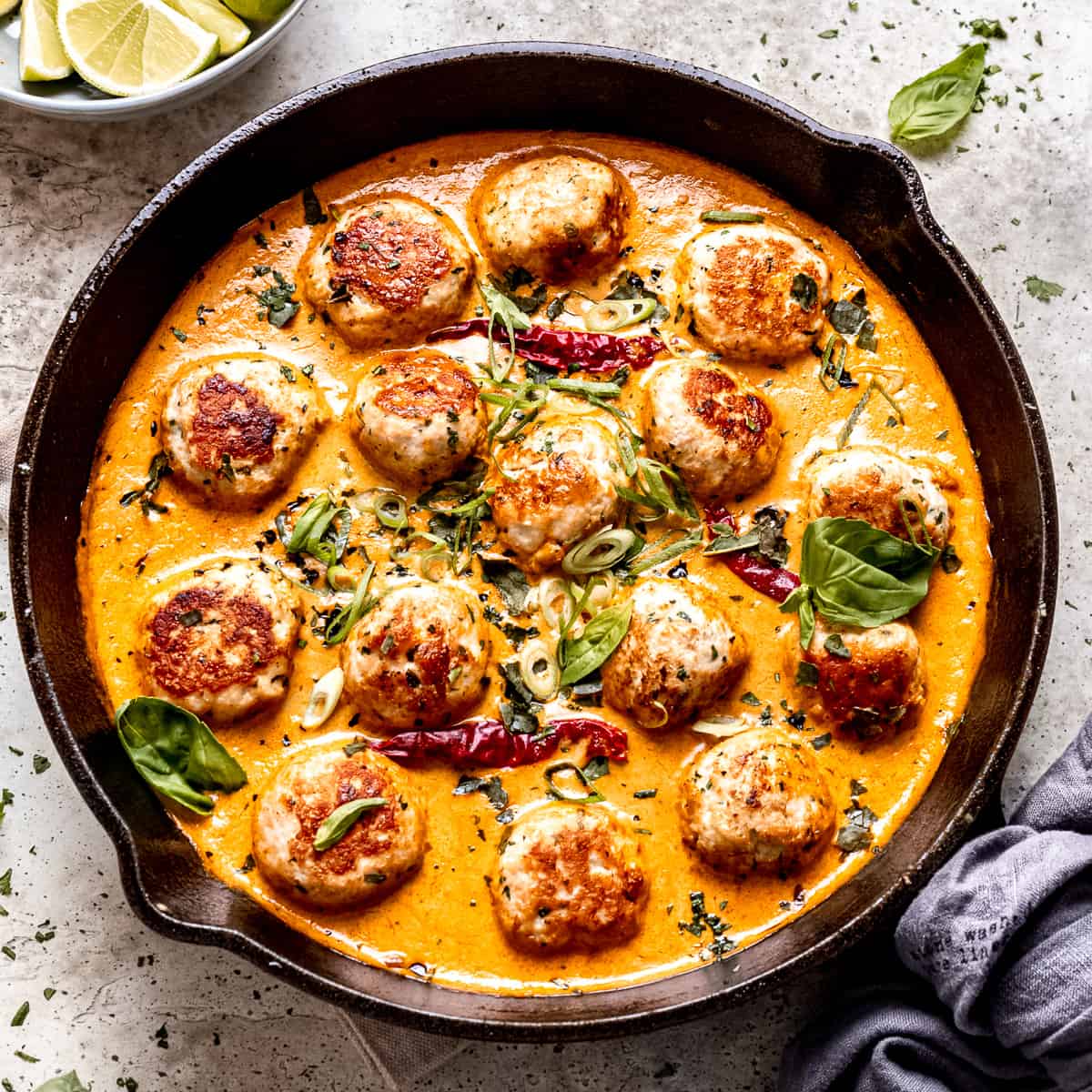 Dinner 1- Turkey Meatballs in Thai Curry sauce Recipe cost- £5.18
These juicy, tender Thai meatballs are bursting with bold, exotic flavours. The perfect balance of spicy, sweet, and savoury, with a hint of lemongrass and coriander, creates depth and complexity while still keeping this a 30-minute dinner.
*You can easily use mince chicken or pork instead of turkey.
Dinner 2- One pot Mexican rice Recipe cost £2.72
All you need is one pot and a few ingredients for this one. It's a 30-minute dream dinner. This is a one-pot rice, so do measure the liquid accurately. You can add in some grilled chicken or grilled halloumi to bulk it out.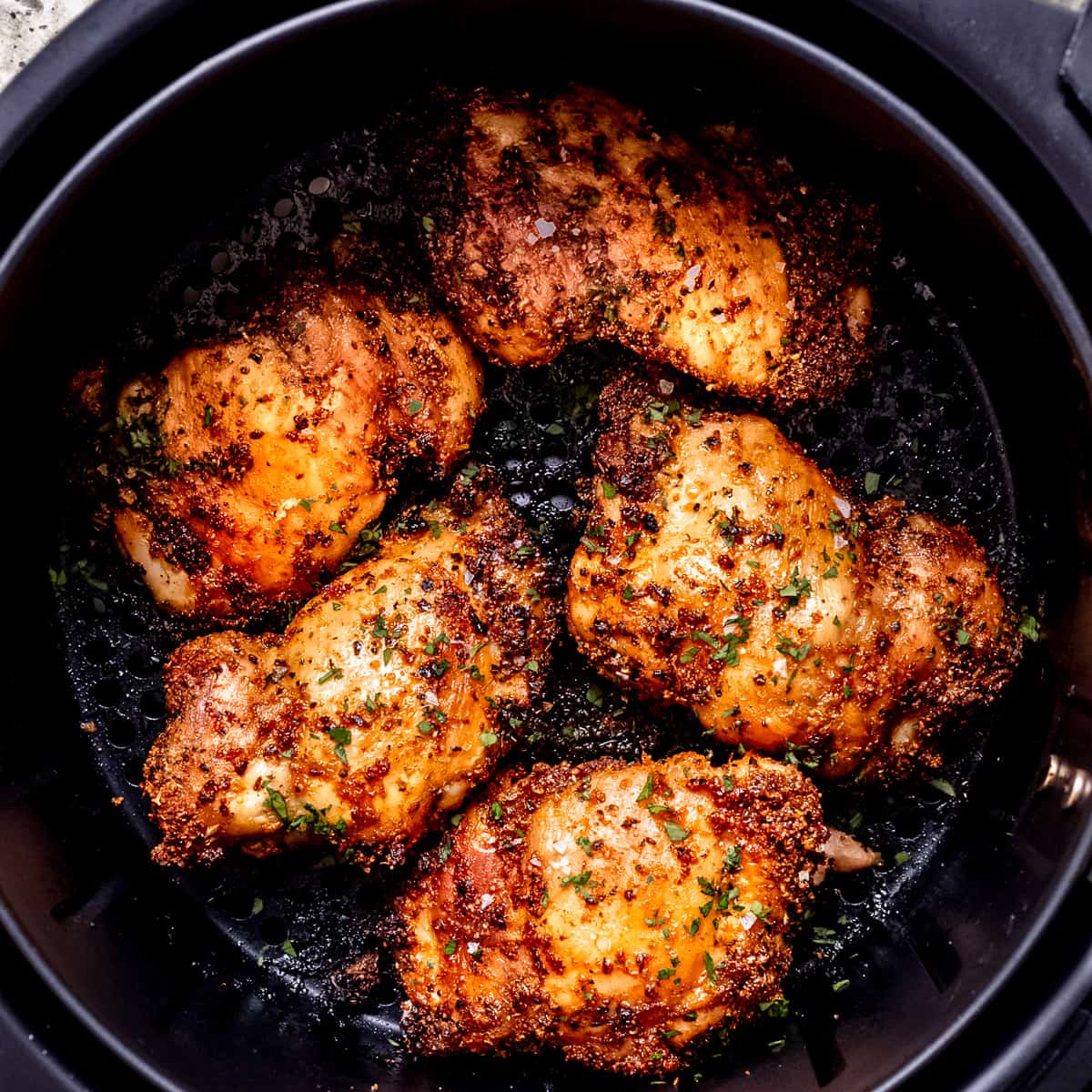 Dinner 3- Air Fryer Chicken Thighs Recipe cost- £5.82
These boneless, skinless air fryer chicken thighs are low in fat but high in flavour and protein. Coated in homemade seasoning with savoury garlic, smoky paprika, and earthy oregano. They're air fried until crispy on the outside, with the juiciest tender meat once you cut into them.
*You can use chicken breast for this recipe or even substitute some pork chops with this spice rub.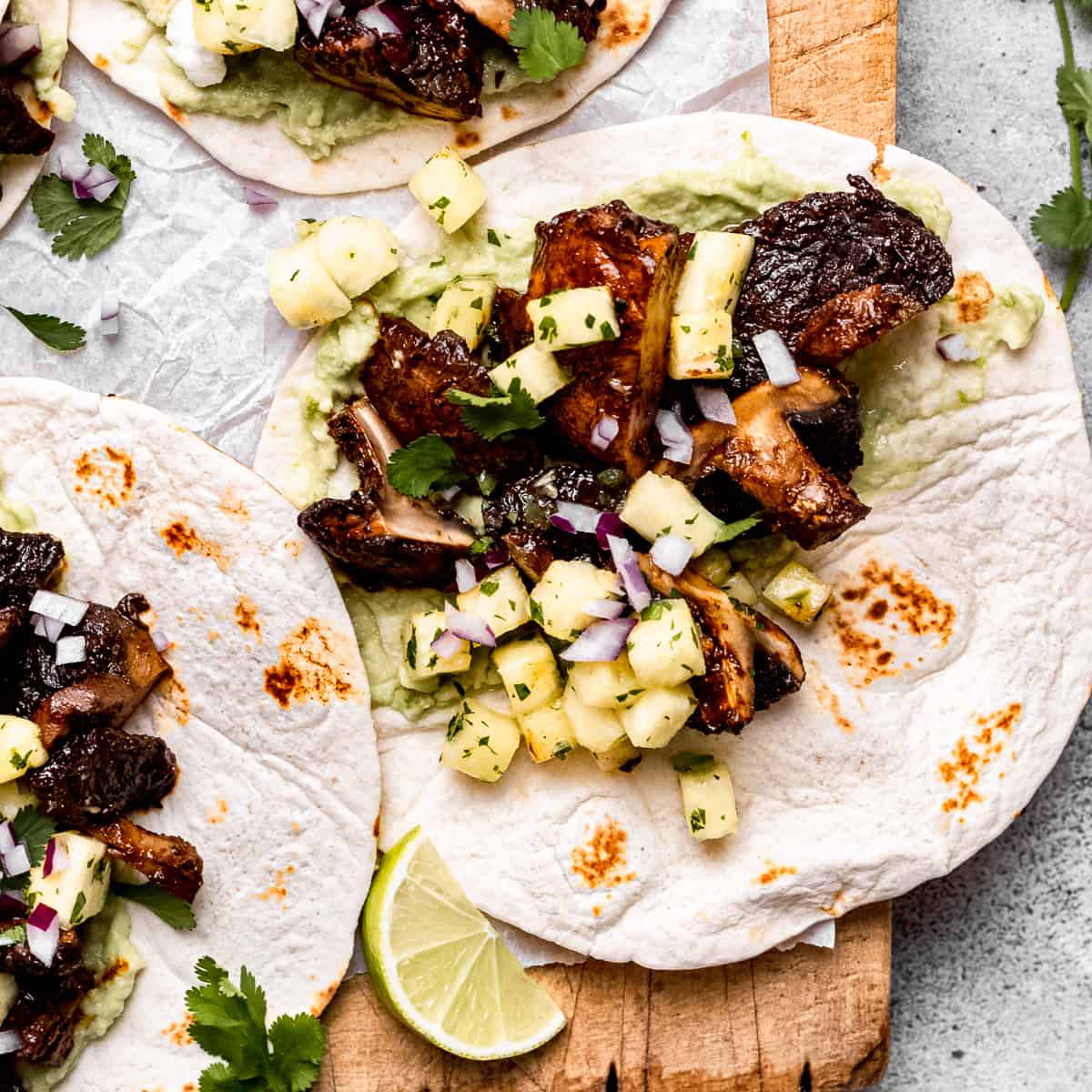 Dinner 4- Smoky Mushroom Tacos Recipe cost- £4.65
Grab a big pack of wonky mushrooms for this recipe and keep them whole. Mushrooms have a rich, meaty, umami flavour that is so satisfying. The pineapple salsa is sweet and tangy, but you can use a jar of salsa if you prefer.
*Save leftover mushroom filling to stir into soups or pasta.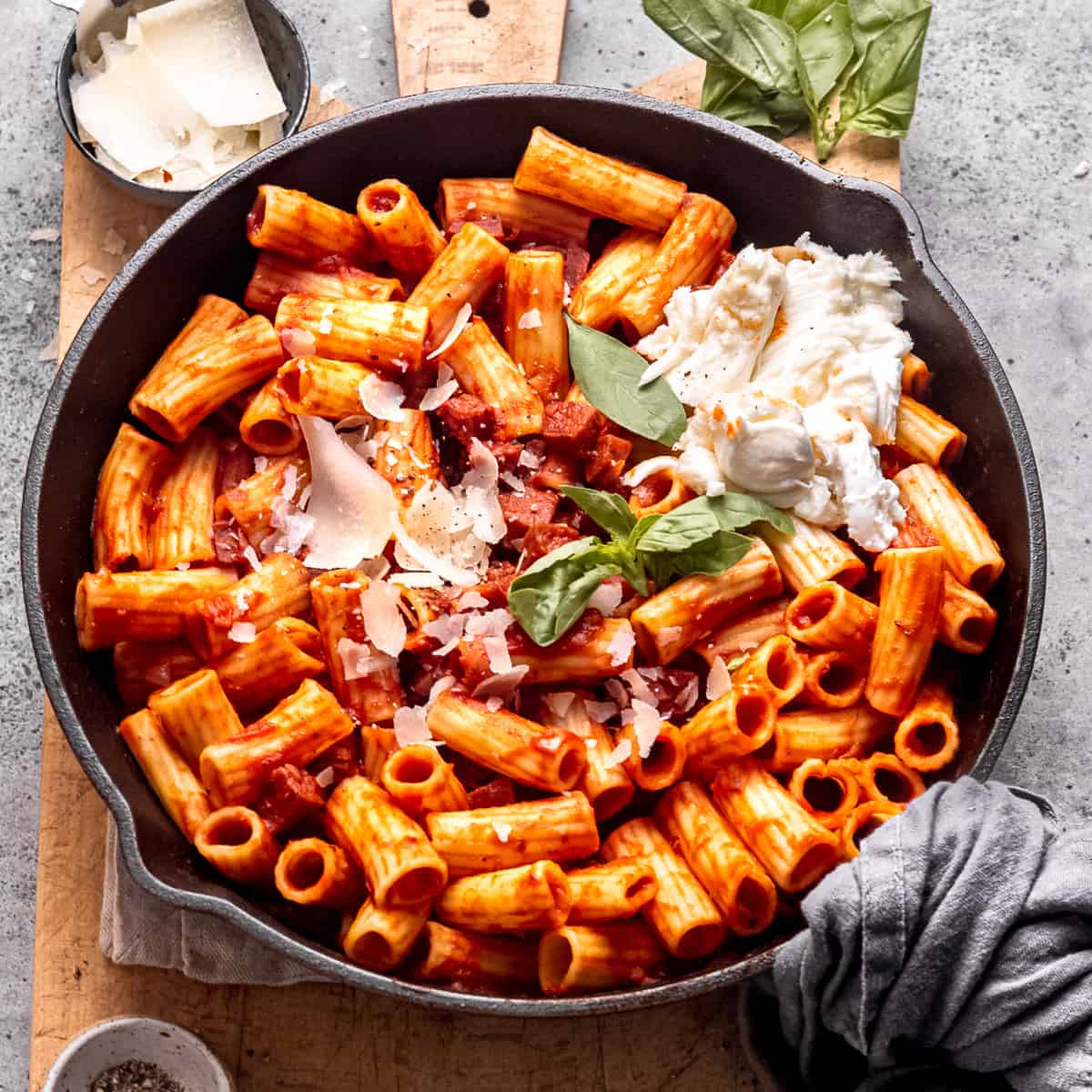 Dinner 5- One Pot Chorizo Pasta Recipe cost- £5.28
Mildly spicy with a rich tomato sauce, this one-pot pasta is always a crowd favourite. It takes less than 30 minutes, and you can easily turn it into a pasta bake for extra cosy comfort.
💲 The Economics of Cooking: How Recipe Costs are Calculated
Each recipe has been costed individually, so you can decide which dinners you want to make based on how much each one costs.
Each recipe has been calculated by adding the costs of each ingredient used, in the amount used, rather than adding the full price of items purchased. Some argue that you can't just buy 2 tablespoons of olive oil or soy sauce, so the recipe actually costs more to make.
The counterargument is that you don't buy an entire bottle of oil or sauce every time you make a recipe, nor do I consider an ingredient "free" if I already have it in my cupboards and didn't need to buy it for that recipe. Both methods have their caveats, but I find the method used here most representative of the recipe's true cost.
🌿 Pantry Staples: Less is More
This meal plan was designed to use the least amount of ingredients possible to keep costs down but to use them in unique combinations. So, you'll see alot of the same ingredients over and over. This not only keeps costs low but reduces waste. Below are the ingredients that you will see repeated.
olive oil
vegetable oil
salt
pepper
dried herbs and spices
Before you shop for this meal plan, please check your cupboards and fridge/ freezer for ingredients you may already have.
*Especially items like fresh garlic, limes, lemons and fresh herbs.
🔄 Flexibility and Adaptability
One of the standout features of Meal Plan 133 is its built-in flexibility. We understand that every household has different tastes, dietary restrictions, and budget constraints. That's why this meal plan is designed for adaptability.
Swap Ingredients with Ease
Don't have turkey for the meatballs? No problem! You can easily switch to chicken, pork, or a plant-based alternative. The recipes are constructed to allow for easy ingredient swaps without sacrificing flavour.
Scale to Your Needs
Whether you're cooking for one or a family of six, each recipe can be easily scaled. The itemized shopping list and cost breakdown make it straightforward to adjust quantities based on your needs.
Leftovers Reimagined
Leftover mushroom taco filling? Use it as a hearty base for soups or as an additional salad topping. Our meal prep and leftovers guide gives you creative ideas for reinventing leftovers into entirely new dishes.
Mix and Match
Feel free to combine recipes or elements from various weeks of our meal plans. Want to pair the rir fryer chicken thighs from meal plan 133 with the easy pilau rice? Go right ahead! The meal plans are modular by design to fit seamlessly into your life.
By incorporating these features of adaptability, Meal Plan 133 not only offers a roadmap to economical and tasty meals but also the flexibility to make it truly your own.
Meal plan FAQs
How do you calculate the cost of each recipe?
We calculate the cost of each recipe by summing up the cost of each individual ingredient used, based on their proportion in the recipe. This means we don't account for the full price of a bottle of olive oil, for instance, but rather the cost of the amount used in the specific dish.
Are the recipes suitable for beginners?
Absolutely! Our recipes are designed to be straightforward and easy to follow. Whether a kitchen novice or a seasoned cook, you'll find these recipes manageable and delicious.
Can I mix and match recipes from different meal plans?
Absolutely! Feel free to mix and match recipes to suit your taste and needs. Each meal plan is designed to be flexible for just that reason.
Ready to Spice Up Your Meals Without Burning Your Budget?
Step 1: Don't miss a single drool-worthy recipe or cost-saving hack. Subscribe now to get weekly meal plans, exclusive tips, and budget hacks sent straight to your inbox!👇 SUBSCRIBE Below.
Step 2: Become a Budget Gourmet! Join our exclusive Meal Planning Club on Facebook to share your culinary masterpieces, swap budgeting tips, and learn from a community of savvy home cooks like you.👉 JOIN THE CLUB.
Step 3: Get the ultimate Meal Plan 133 Guidebook! Complete with a shopping list and meal prep tips, download it for FREE now!👉 DOWNLOAD GUIDEBOOK.
Your dream of affordable, tasty, quick meals is just a click away!