This easy crockpot lamb tagine is a perfect weeknight dinner. Tender slow-cooked lamb, nutty buttery chickpeas and lots of Moroccan spices in a rich tomato sauce. Using only simple ingredients from Aldi.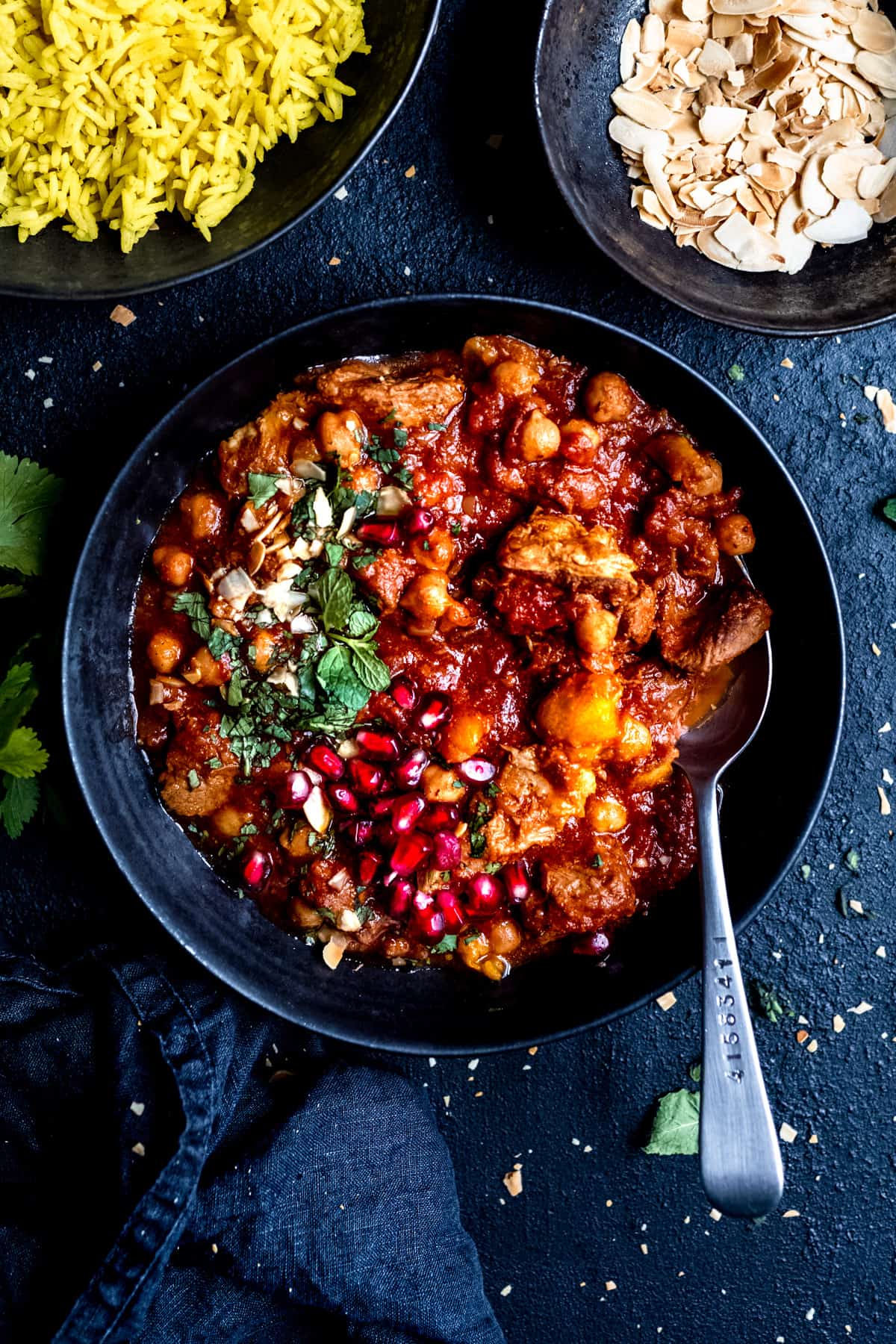 Slow cooker Moroccan lamb stew is so packed with flavour that you'll forget it's healthy. And healthy cooking is one of the best qualities of a slow cooker. Not to mention they are so convenient! Some of our favourite slow cooker recipes are this ham and lentil soup, or this thick and chunky chilli. You may also want to try this Indian lamb curry too!
But back to this slow-cooked lamb stew. Most recipes for slow-cooked Moroccan lamb will use lamb shoulder or lamb neck, but we're just using the lamb pieces from Aldi. They come already diced, so there's no prep required and they have a lovely marbling of fat. I used 600g of lamb for this recipe but it's a little bit pricey right now so you can totally stretch this recipe and use half the amount of lamb and top up with extra chickpeas. It's also so awesome when it's served with this pilau rice.
Jump to:
Why You'll Love This Recipe
Slow cooker/ crockpot stews are incredibly convenient and make the most of cheap cuts of meat. Long slow cooks in liquid result in tender, fall apart lamb.
Tagines are typically a slow-cooked stew with meat and/or vegetables and spices that often incorporate fruit and nuts into the cooking process. This lamb tagine has apricots and dates.
It's great for batch cooking and filling the freezer. It makes enough for a crowd or a few portions of leftovers.
This lamb stew gets better the next day. As the tagine sits in the fridge the spices and flavours intensity and marries well.
Ingredients needed
diced lamb- the diced lamb from Aldi has a nice bit of fat on it usually which really helps to contribute to the flavour of the stew.
onion
garlic
tomato paste/ puree
chickpeas
chopped/ crushed tomatoes
spices- ground coriander, ground cumin, cinnamon, paprika
fresh ginger
dried apricots and dried chopped dates
lemon, juice only
For the topping- flaked almonds, pomegranate, and chopped coriander and mint
See the recipe card for quantities.
Step By Step Instructions
Step 1 & 2
It's always really important to brown your meat really well. Even when you are using a slow cooker. Too many recipes want you to put everything into liquid in a slow cooker or crockpot and leave it. That does work, but you're missing out on so much flavour. Start with a tablespoon or two of vegetable oil and sear the meat well on all sides.
Once the lamb is browned all over, remove it to the bowl of the slow cooker and add the diced onion and ginger to the pan. As the onions start to sweat and release their water, you can scrape up all the brown bits of lamb on the bottom of the pan. This is called the frond, and it is nothing but flavour! Don't let it go to waste.
Step 3 & 4
Now that you've spent about 5 minutes searing your lamb, you can add stock, tomato puree and spices to the slow cooker. Cook on medium for 3 hours and then add the dates, apricots and chickpeas and cook for another 30-45 minutes.
You can use lamb, beef, chicken or vegetable stock for this lamb stew. I used beef simply because I think the bold flavour of it goes well with lamb. But chicken will work well here too.
Fruit and lamb
Lamb and apricot were made for each other. The apricots sweet and the lamb rich balance each other out so that once they've had time in the slow cooker, the apricots are not too sweet or cloying and the richness of the lamb is tempered by the musky sweetness of apricots and dates. Serve with toasted almonds. You can use pistachios too, but lamb and almond really is a match made in heaven. And don't forget the squeeze of lemon to tie everything together.
Hint: While cooking in the crockpot try to not open the lid. Every time the lid is removed the temperature drops and prolongs the cooking time. And because slow cookers don't allow for evaporation we're cooking with less liquid and steam escapes every time the lid is opened.
Recipe FAQ's
Can I make this recipe on the hob/ stovetop?
You bet! This recipe works equally well on the hob or in a slow cooker. Simply follow the instructions and add a little bit more stock to the pot to compensate for more aggressive heat. *See the notes in the recipe card.
What can I serve this lamb stew with?
This goes perfectly well with the pilau rice. The rice is cooked with turmeric which is why I left it out of this recipe. They are a natural match made in heaven. But you could always go with couscous if you prefer that. And to keep it keto, just serve it as is. It's a very hearty stew, so doesn't really need anything else to make it filling.
Substitutions And Variations
This lamb tagine stew is naturally gluten-free and dairy-free (unless you opt for the yoghurt) so there aren't too many dietary substitutions to be made, but here are some variations that you'll really want to try.
Lamb - instead of using lamb here, you can use beef or chicken. A tagine refers to the pot that the stew is cooked in, not the meat that's in it. Although lamb is the most typical, beef or chicken work well here too and you don't need to adjust anything else. Simply substitute the lamb
Spices - you can adjust the spices in this tagine recipe to add in more of what you love. I go a little heavy on the ground coriander because I love it's almost floral smokiness, but you can add in some turmeric and increase the paprika for more of a spicy hit.
Toppings - I always love topping my tagines with lots of extras to get even more flavour and texture happening- Greek yogurt, pomegranate arils, toasted flaked almonds, chopped pistachios, fresh chopped mint, fresh chopped coriander.
Serving - here are some of my favourites- pilau rice, flat bread, Moroccan couscous and cucumber salad.
Equipment
Equipment can have a big impact on how a recipe turns out. This recipe only requires one real piece of equipment being a slow cooker. This sear and stew slow cooker is an absolute dream! You can skip the second pan and sear directly in the bowl of the slow cooker. This is the exact one that I have, but I also have an induction hob so it doesn't work on mine. But if you have gas or electric it will be a dream!
You can also take a look at my reviews for other slow cookers here.
Storage
Essentially a tagine is a stew. And we all know that stews only get better with time. The next day or even the day after that is peak flavour day for most tagines. They also freeze like a dream. So keep in an airtight container in the fridge for up to 3 days or in the freezer for up to 3 months. *Be sure to freeze without any of the toppings.
To defrost and reheat, simply place in the fridge the night before, and heat gently in the slow cooker again, or in a saucepan on the hob. If you're going to use the slow cooker again, use the high setting for about 30-45 minutes.
If you forget to take out the tagine the night before (we all do this!) there are a few options you can use.
Gently defrost in the microwave in 30-45 second intervals
Just place the frozen lamb tagine directly in the slow cooker and extend the heating time by about 1 hour.
Place the container under cold running water for about 20 minutes until it is ready to go into a sauce pan to heat up.
Top tips
Sear the lamb well
Brown the onions
Adapt the spice ratio to your liking- also feel free to add some chilli flakes for heat. It's not tradtional, but we're making this recipe our own!
Don't forget the toppings- they really make the whole dish.
Take good care of the leftovers. They keep getting better!
Need help with meal planning? You can find our (Aldi ingredients only) weekly meal plans here! Sign up to receive them free every week or take our quick meal planning course and grab the blank meal planner and use all these recipes to create your own meal plans. Follow along on Pinterest, Instagram and Facebook.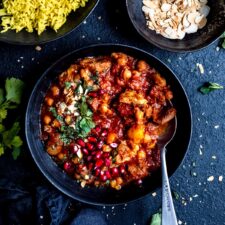 Rich and Tender Easy Slow Cooker Lamb Tagine
A fragrant slow cooker lamb tagine with a rich and hearty tomato sauce, buttery chickpeas and meltingly tender lamb.
Print
Pin
Rate
Ingredients
600

g

(

2 ⅖

cups

)

diced lamb *see notes

,

not lamb neck

2

tablespoons

(

2

tablespoons

)

vegetable oil

1

(

1

)

brown onion

,

diced

4

cloves

(

4

cloves

)

garlic

,

minced

1-

inch

(

1-

inch

)

piece fresh ginger

,

grated

Spice blend-

½

tablespoon

(

½

tablespoon

)

cumin

1

tablespoon

(

1

tablespoon

)

ground coriander

¼

teaspoon

(

¼

teaspoon

)

cinnamon

1

teaspoon

(

1

teaspoon

)

paprika

1

tablespoon

tomato puree

200

ml

(

6 ¾

floz

)

beef stock made with a stock cube

1 x 400

g

(

2 ½

cups

)

tin chopped tomatoes

1

(

1

)

tin chickpeas

,

drained

20

g

(

5/7

oz

)

dried apricots

,

chopped

15

g

(

½

oz

)

dried dates

,

chopped

1

tablespoon

(

1

tablespoon

)

honey

squeeze of lemon
For serving
Greek yoghurt

flaked almonds

,

toasted

chopped coriander

pomegranate
Instructions
Brown the lamb in some vegetable or olive oil on all sides. Remove to a plate.

Add the chopped onion, garlic and ginger and sauté for about 2 minutes scraping up any brown bits.

Place the lamb, onions, garlic and spices into the slow cooker and slow cooker and pour in the stock and chopped tomatoes. Cook on medium for 3 hours.

Once the lamb is tender add in the honey, chopped apricots and the drained tin of chickpeas and continue to cook for another 20-30 minutes.

Stir in the honey and lemon juice. Taste and adjust the seasoning.

Divide into bowls and top with the fresh coriander, chopped pistachios or almonds and some greek yoghurt. Add in some mint leaves if you like to.
Notes
Gently defrost in the microwave in 30-45 second intervals
Just place the frozen lamb tagine directly in the slow cooker and extend the heating time by about 1 hour
Place the container under cold running water for about 20 minutes until it is ready to go into a saucepan to heat up.
Be sure to sear the lamb very well to get the most flavour possible.
Nutrition
Calories:
285
kcal
|
Carbohydrates:
10
g
|
Protein:
14
g
|
Fat:
21
g
|
Saturated Fat:
8
g
|
Polyunsaturated Fat:
3
g
|
Monounsaturated Fat:
8
g
|
Trans Fat:
1
g
|
Cholesterol:
55
mg
|
Sodium:
168
mg
|
Potassium:
393
mg
|
Fiber:
1
g
|
Sugar:
7
g
|
Vitamin A:
174
IU
|
Vitamin C:
7
mg
|
Calcium:
46
mg
|
Iron:
2
mg