A 7 day flexible, budget-friendly meal planner to take the guesswork out of making dinner. All the ingredients are from Aldi because I'm a big believer in a one-stop-shop and staying on a budget. The plan includes the recipes and an itemized shopping list to make it all really easy!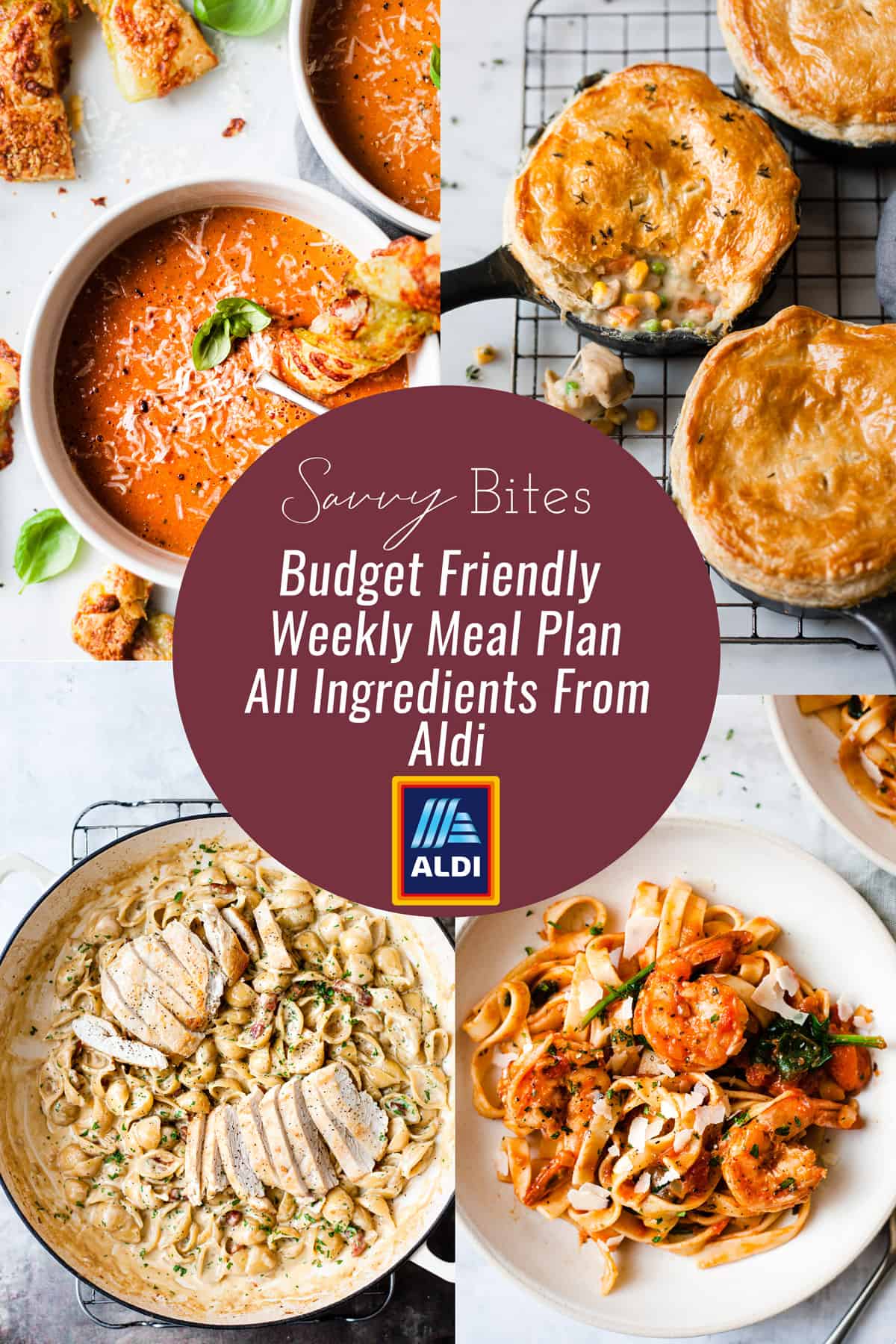 ---
Weekly Meal Plan 4
Like this recipe? Pin it to your Dinner Or Meal Plan pinboard!
Follow SavvyBites on Pinterest
---
Jump to:
Hello, and welcome to the fourth(!!!) Savvy Bites dinner plan using all ingredients from Aldi UK. If you're USA based, I'm sure you can get most of these items at your local Aldi, too. So here we are. In unprecedented times and unchartered territory. But the fact of the matter is, while we're all on lockdown, we're eating and cooking more than we ever have before. Partly out of necessity and partly out of stress relief, often both. I've included 7 recipes but, depending on the size of your household you may have leftovers. Or, if you're able, you may decide to support one of your local eateries and order takeout or delivery.
Why Aldi
I know many people might be new here, so let me just explain a few things real quick. I don't work for Aldi, nor have I ever. I'm not affiliated with them in any way except that they are my favourite grocery store and I think what they do is remarkable. Like many of you, I'm sure, I used to do my primary shop at Aldi, and then go to one or two other shops for "bits and bobs". It was costing me too much time and too much money. So, I decided to use my chef training and get creative and disciplined about making recipes using only ingredients from Aldi. And so far, it's been a hit!
About the meal plan
Meal planning has been an integral part of my life since I was a kid. Being raised in a single-parent household on a fixed income, it was vital that we didn't buy more than we needed and certainly never wasted anything. All of that means that I know a tonne about sticking to a budget and making a lot out of not very much. In times like these, both skills have come in handy. So, these meal plans are a way that I can help you navigate some waters you may not have a lot of experience with.
Especially in these days of COVID and lockdown, I want to use my experience and knowledge to lighten your load in any way that I can. I'm including 6 recipes (all ingredients available at Aldi), so you can either do a takeaway one night or have some leftovers. Either way, you get 6 recipes and the shopping list.
The recipes
Roasted tomato soup with cheese straws
Shopping list
Meal Plan No4 Shopping List (Print Shopping List)
Larder/ Store Cupboard
olive oil

3 tablespoons Thai red curry paste

1 jar curry powder

1 jar turmeric

1 jar teaspoons cumin

500g red lentils

1 box vegetable stock cubes

1 box chicken stock cubes

1 tin chopped tomatoes

500g tagliatelle pasta (or similar)

500g plain flour

500g pasta shells (or similar short pasta)

1 box corn starch

1 bottle dark soy sauce

1 bottle ketchup

1 bottle vinegar

1 jar honey

1 jar basil pesto
Fresh Fruit & Veg
ginger

4 yellow onion

1 red onion

1 bulb garlic

1 butternut squash

1 bag baby spinach

2 punnet mixed baby plum tomatoes (cherry tomatoes)

1 punnet mushrooms

1 bunch thyme

1 bunch parsley

1 bunch basil

1 small bag of large carrots

1 red chilli pepper

2 packs vine tomatoes (about 10)
Meat/ Fish & Dairy/ Frozen
1 bag jumbo king prawns (frozen section)

1 block butter

1 package parmesan cheese

2 box puff pastry sheet

6 eggs

4 chicken breast (boneless, skinless) cut into cubes

300ml milk

500g frozen peas

500g frozen sweet corn

1 pack pancetta/bacon lardons

1 pack smoked streaky bacon

300ml double cream

250g sirloin steak

250g shredded mozzarella
Meal Plan No4 Shopping List (Print Shopping List)
More weekly meal plans
Weekly Meal Plan No. 1
Weekly Meal Plan No. 2
Weekly Meal Plan No. 3
THANKS SO MUCH FOR READING AND COOKING ALONG WITH ME! IF YOU MAKE THIS RECIPE OR HAVE A QUESTION, I'D LOVE IT IF YOU LEFT A COMMENT AND A RATING. YOU CAN ALSO FOLLOW ALONG ON PINTEREST, FACEBOOK AND INSTAGRAM TO SEE WHAT WE'RE EATING, PINNING AND A LITTLE BEHIND THE SCENES TOO!