This one bowl chocolate chip banana bread is super moist and fluffy. Just a handful of ingredients and less than 1 hour is all you need to have this chocolatey treat for breakfast or a snack. You'll never waste bananas again.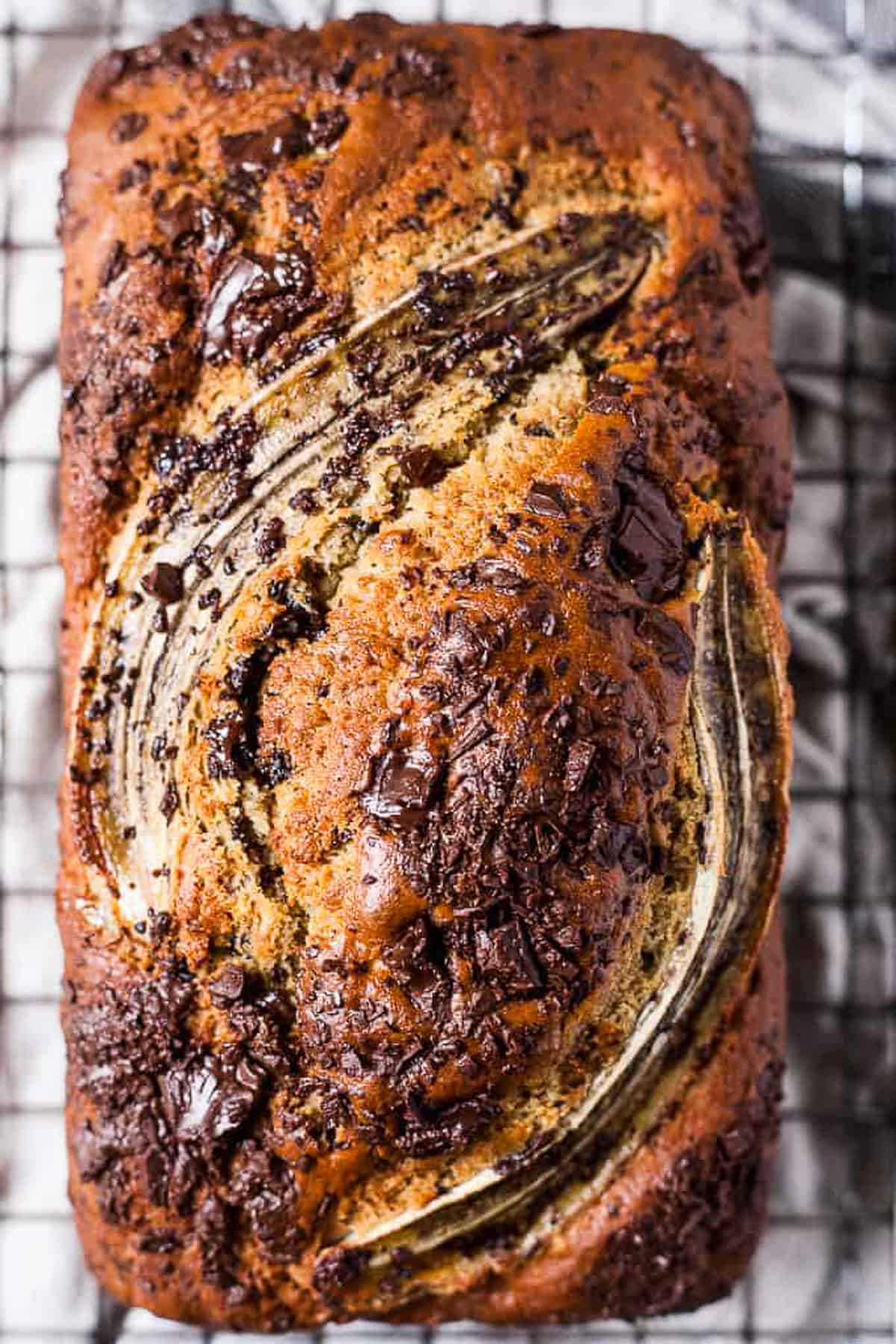 Bananas and chocolate are a match made in heaven any time, but when you bake them up with flour, eggs and some Greek yogurt to keep it all moist, it truly becomes a wholesome snack.
This banana chocolate bread has a soft and fluffy texture and a light crumb, while the chunks of chocolate melt in your mouth.
These one bowl banana chocolate muffins are also a great choice. Or try these easy courgette muffins that everyone is raving about!
Jump to:
Why You'll Love This Recipe
It uses only 1 bowl!
Extra moist because of the vegetable oil and Greek yoghurt
It's the easiest banana bread on the internet!
There's chocolate in it!
It is hugely customisable by adding in nuts or other dried fruit.
Ingredients needed
Bananas
Plain flour
Eggs
Butter
Caster sugar (or granulated)
Brown sugar
Baking soda (bicarb of soda)
Full Fat Greek Yogurt
Vegetable oil
Optional Ingredients- Cinnamon, walnuts, pecan, raisins, sultanas or any other dried fruit.
See the recipe card for quantities.
Step By Step Instructions
Step 1 & 2
Add your eggs, sugars, banana, yoghurt and butter to a medium bowl.
Sift the flour, bicarb and salt straight into the bowl over the egg mixture. This is how we avoid using more than one bowl!
Step 3 & 4
Stir in the chocolate chunks and any of the optional extras you may want to add. Mix gently, then pour into the prepared tin.
Split the third banana lengthwise and place it on the top of the banana loaf. Sprinkle with the extra chocolate chunks and bake for about 40 minutes. You can sprinkle some demerara sugar on just before baking for that crunchy texture.
How to keep the banana cake moist
Make sure that the banana bread is wrapped tightly in foil and or cling film. I know we're all trying to move away from plastic use so this beeswax wrap from Amazon may be just the ticket.
Place the wrapped banana bread in an airtight container.
Keeping the cake/bread in the fridge also helps to keep it fresh for about a week. But let's be honest... we've all eaten banana bread that's been in the fridge longer than that!
If you find your banana bread gets a little dry, then warm it gently in a 130ºc oven for a few minutes and spread with butter!
Recipe: FAQ
How do I ripen bananas so I can make this now?
There are a couple of ways you can ripen them quickly.
1. Put them in a paper bag with an apple. The enzymes from the cut apple and skin work their magic to ripen bananas. This method takes about a day.
2. Preheat to oven to 150c or 300f. Place the bananas on a baking tray in the oven for about 15-20 minutes. Once the skins are black the bananas will be ripe.
How do I stop my banana bread from sticking to the pan?
Grease your loaf pan really well with either non stick cooking spray or butter and line with non stick baking paper.
My banana bread sunk in the middle. What happened?
There could be a few reasons.
1. Your leavening agents (baking powder) may be expired. However, they do have a very long shelf life. Be sure to double check the expiry date before baking.
2. The banana bread is underbaked. This is usually the cause of cakes sinking in the middle. Often, the centre of the cake is risen, but once out of the oven it sinks.
To avoid this use a toothpick to check for doneness. There should only be a few moist crumbs that stick to the toothpick when the bread is fully baked.
Can I turn these into muffins?
Absolutely. Just line a muffin tin with paper muffin liners and add the banana batter until each muffin cup is about ⅔ full. Bake for about 20 minutes until the muffins are risen and baked all the way through.
Substitutions & Variations
If you know how to make the recipe fit a certain diet, let the reader know here. Don't fake it - only provide guidance on topics you have actual experience with.
Chocolate - you can try white or milk chocolate or a combination of all of them.
Greek yogurt - I've used full fat in this recipe, but you can switch to fat free if you need to. The texture just won't be quite as fluffy.
Peanut butter - drop a few teaspoons of peanut butter to the batter and swirl through before baking.
Equipment
Storage
Fridge- After a day at room temperature, keep the banana bread in an airtight container or bag in the fridge. Normally, the fridge will dry out a cake, but because of the Greek yogurt and oil this bread is so moist and won't dry out.
Freezer- Wrap in foil and place in a freezer bag in the freezer for up to 2 months.
Top tips
Be sure to line your loaf tin with baking paper.
Use a toothpick or skewer to check for doneness before removing the banana bread from the oven.
Let the banana bread cool completely before slicing. Cutting into it before its completely cooled will create a lot of crumbs and the loaf will fall apart.
Need help with meal planning? You can find our (Aldi ingredients only) weekly meal plans here! Sign up to receive them free every week or take our quick meal planning course and grab the blank meal planner and use all these recipes to create your own meal plans. Follow along on Pinterest, Instagram and Facebook.

The Easiest 1 Bowl Banana Bread Ever
An easy one bowl banana bread that's got everything going for it. Super moist, full of chocolate, and everything is available from Aldi UK.
Print
Pin
Rate
Ingredients
5

tablespoons

(

5

tablespoons

)

butter melted and cooled

2

tablespoons

(

2

tablespoons

)

vegetable oil

100

g

(

½

cups

)

caster sugar

100

g

(

3/7

cups

)

brown sugar

2

(

2

)

eggs

1

teaspoon

(

1

teaspoon

)

vanilla

3

(

3

)

very ripe bananas See note 1

65

g

(

⅓

cups

)

Greek yogurt

,

full fat

360

g

(

2 5/7

cups

)

flour

,

sifted

1 ½

teaspoons

(

1 ½

teaspoons

)

bicarb of soda

½

teaspoon

(

½

teaspoon

)

salt

200

g

(

1 ⅛

cups

)

chocolate chips or chocolate chunks reserve 2 tablespoons for sprinkling on top
Instructions
Preheat the oven to 180c and grease and line a 2lb loaf tin.

In a small sauce pan over a medium heat, melt the butter and set aside to cool.

In a medium mixing bowl, pour the vegetable oil, both the sugars and the eggs. Add the bananas (break them up into chunks), melted and cooled butter and the Greek yogurt. Mix well with a fork or a wooden spoon.

Sift the flour directly into the bowl and stir in the bicarb and the salt. Mix until just combined. Add the chocolate chunks and mix once more.

Pour the banana mix into the lined loaf tin and top with the third banana split lengthwise. Scatter with the remaining chocolate chunks and bake in the preheated oven for 40 minutes, or until the cake is cooked and a skewer comes out with only a couple of moist crumbs.
Notes
This recipe only uses 2 bananas in the cake and the other banana gets split lengthways so and placed on the top of the cake before baking.
Nutrition
Calories:
382
kcal
|
Carbohydrates:
62
g
|
Protein:
6
g
|
Fat:
13
g
|
Saturated Fat:
6
g
|
Polyunsaturated Fat:
2
g
|
Monounsaturated Fat:
2
g
|
Trans Fat:
1
g
|
Cholesterol:
51
mg
|
Sodium:
358
mg
|
Potassium:
202
mg
|
Fiber:
2
g
|
Sugar:
30
g
|
Vitamin A:
248
IU
|
Vitamin C:
3
mg
|
Calcium:
29
mg
|
Iron:
2
mg